13 Nov

A Trip to the Elephant Nature Park

We learned a lot about the plight of Thailand's elephants and got up close to these amazing creatures during a trip to the Elephant Nature Park  – here's the story of our day there.
The Plight of Thailand's Elephants
There's a huge contradiction in the attitude towards elephants in Thailand; on one hand they're revered as sacred animals that helped build the country and win wars but on the other, they're beaten and abused in the worst ways. Historically, wild elephants were domesticated in Thailand for logging work, however, after this was banned in 1989 they became surplus to requirements and many were either abandoned in forests, sold over the border to Burma where logging is still legal or used instead to make money from tourists.
Although two thirds of their natural habitat was destroyed by the logging industry, there's still a small wild elephant population in Northern Thailand. While these creatures are classed as endangered and are protected by law, domesticated elephants are only awarded the same protection as cattle. That means owners are free to use and abuse elephants without repercussion; they can beat, maim, overwork or abandon them at will. Domesticated elephants are usually made to work in camps giving tourist rides and are also taken into cities to beg for money from tourists; the bright lights and vibrations in the ground causing them major distress.
The most disturbing aspect of all this is the process used to domesticate elephants in Thailand and many other Asian countries. The practice, referred to as Phajann, involves literally breaking an elephant's spirit so they are submissive enough to be used for work or tourism. Young elephants are forced into a tiny 'crushing pen' and tortured into submission; men beat, starve and deprive the animal of sleep for days on end using nails, sticks and rocks to inflict as much pain as possible. Many mahoots (elephant trainers) believe that this practice is necessary to ensure the elephants will work effectively for humans. We were shown a documentary about this disgusting practice during our trip to the Elephant Nature Park – it's barbaric.
Saving the Gentle Giants of the Forest
When Andrew and I first visited Thailand in 2009 we had no idea about any of this; during a trekking tour we were taken to an elephant camp and I'm ashamed to say that we did ride one. This is something I bitterly regret and would never repeat; participating in this kind of tourism only perpetuates the cycle of abuse in my opinion. I do realise that this issue isn't as clear cut as I've made out. If every single tourist suddenly refused to pay to see elephants in Thailand, what would happen? Would the elephants be killed or abandoned because they didn't generate income for their owners anymore?
There's no simple solution to Thailand's elephant problem. From what I can see the government needs to introduce and enforce some animal welfare laws (which they seem to be debating at the moment) to protect these animals from abuse as a first step but that's easier said than done. In the meantime, we knew our friends and family would want to see elephants when they visited us in Thailand and we didn't want them to fall into the same trap we had in 2009, so we encouraged them to visit the Elephant Nature Park instead.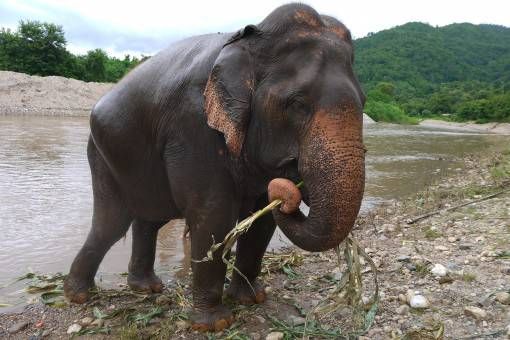 The Elephant Nature Park is set in a natural valley about an hour away from Chiang Mai, surrounded by mountains and forests. The Park was established in the 90s by Lek, a Thai woman who has dedicated her life to saving elephants. Lek rescues as many abused elephants as she can and brings them to her sanctuary, where they are given medical treatment and left to roam freely around the grounds.
Given that each elephant eats around 100kg of food a day and the park currently holds 36 elephants, it costs a staggering amount to run – around $1.4 million a year. The Park relies on donations to survive as well as visits from tourists and volunteers; yes, it's still elephant tourism but it's about as ethical as it gets – the money is put back into saving and caring for animals and the elephants aren't forced to work or give the tourists rides. Most importantly, the Elephant Nature Park works on educating visitors and local people about the plight of domesticated elephants – spreading the word about these issues is vital.
Getting up Close to Elephants – Our Day at the Elephant Nature Park
We opted to take a day trip to the park with my mum and dad during their visit to Chiang Mai. Our guide Zaa, told us about the history of the Park and showed us a documentary during the hour-long drive out to the park. Although the park isn't far from Chaing Mai, it felt like we were well out in the countryside when we finally arrived and took in the little oasis; green fields surrounded by forests and mountains, a wide river flowing beneath the blue sky. Here are our video highlights from the Elephant Nature Park Thailand:
We got our first taste of elephants at the viewing platform almost straight away as herds  ambled over for feeding; as we held out pieces of fruit and vegetables the animals approached, swiping the food gently from our hands with muscular, tentacle-like trunks. It was incredible to have such close contact with the animals; they were so large yet so gentle and trusting, despite the horrific treatment many of them had experienced from humans in the past. There was just one elephant we were warned to stay away from, an aggressive male adolescent aptly referred to as 'Naughty Boy'; he often bullied the older female elephants and could be unpredictable with people.
Zaa took us on a walk around the park, introducing us to some of the elephants and their mahoots. We heard some heart-breaking stories of what the animals had gone through; one was blinded  with a slingshot by her owner after she refused to work when her baby died, another had a stepped on a landmine in Burma while another was  chained up for mating; the male elephant broke her hip when he forcibly mounted her.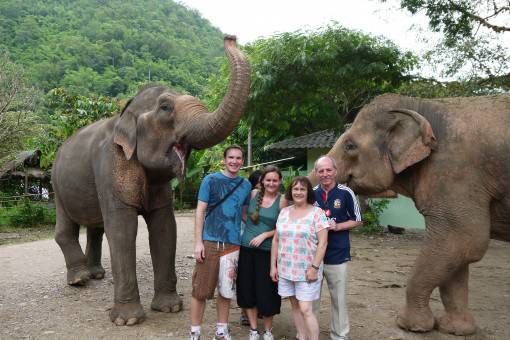 After lunch we got a chance to wash the elephants in the river and get a closer look at a gorgeous baby elephant born at the park before watching a documentary about the plight of Thailand's elephants. There was time for one last feeding before we headed back, exhausted, to Chiang Mai. I learned so much during our trip to the Elephant Nature Park and would urge anyone who wants to get up close to these incredible creatures to do so by visiting the park or signing up as a volunteer – you won't regret it.
The Elephant Nature Park also runs a dog rescue scheme; Andrew and I spent a week volunteering for the dog project, more about that in our next post.
*Our day trip to the Elephant Nature Park cost £50 per person; longer trips and volunteering opportunities cost between £116 and £300, to get more information and book visit the Elephant Nature Park's official website. You can find out more about the issues mentioned above from the Save Elephant Foundation.