03 Jan

Heading South for a Koh Samui Holiday

After a month of work in our beloved Chiang Mai apartment it was time to say goodbye and head south to one of the largest of the Thai islands; Koh Samui, for a holiday with my parents. My mum and dad had spent a few days experiencing hectic Thai cities, now it was time for some rest and relaxation in the sun – here's what we got up to on our Koh Samui holiday.
Our Koh Samui Island Tour
We had about a week to explore Koh Samui so we decided to rent a car for a day to see the island in our own time and comfort. This turned out to be the best way of getting around Koh Samui as we could stop off where we wanted for as long as we wanted. Car rental on the island wasn't too expensive either, we booked through our hotel and paid 1,100 Thai Baht (B) for the car and 600B for fuel; 1,700B (about £34) for a full day between four people.
After a couple of panoramic view stops, we headed to Namuang Waterfall. Despite visiting the island during the supposed rainy season the waterfall sadly wasn't much to look at. However, we did have a nice trek up to see the surrounding jungle views.  We then got back in the car and continued our loop around the island, stopping off at a few nice beaches for a drink and some food.
As we headed towards the eastern end of the northern shore, we went through the fisherman's village of Bophut and reached the Big Buddha Temple; a giant Buddha perched on its lofty viewpoint overlooking Koh Samui, surrounded by worshippers and tourists alike. On the way back to our base in Chaweng we stopped to see the famous grandfather and grandmother rocks; millions-of-years-old rock formations so named due to their appearance to male and female genitalia. Being one of the most popular attractions on Koh Samui there was no shortage of tourist shops and we ended our day there with some delicious coconut ice-cream.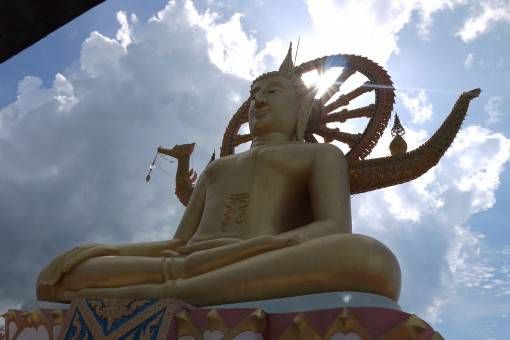 We were in Koh Samui to relax as well as explore though, so we spent a couple of days sunbathing and reading on the beach. We then all jumped in a songtheaw to Bophut's Fisherman's Village for the Friday night market. This market was really catered towards the tourists so you could pick up all the souvenirs you wanted. There are also quite a few nice bars and restaurants with good views out to sea even if they are a bit pricey. We enjoyed the bustling market and after a couple of hours took a taxi back to our hotels.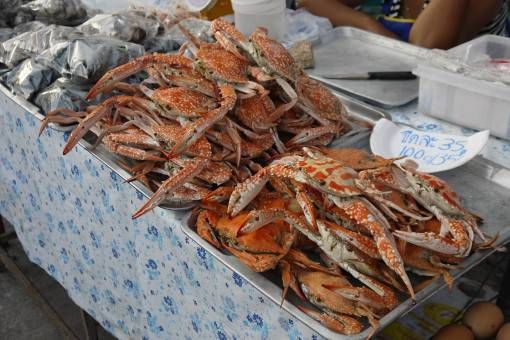 Our Koh Samui Holiday Accommodation
We found a great little hotel and managed to negotiate a good deal for our week in Chaweng Koh Samui. The Ariana Boutique Hotel was on a quiet street not far from the bars and restaurants and just a short walk from my parents' hotel. We also discovered Café Uno, where we had breakfast every day and lunch once or twice. We were also really impressed with an Indian restaurant along the same road; both had really helpful staff and delicious food.
The Downsides of Koh Samui
Our Koh Samui holiday wasn't without problems however; as always we were forced to negotiate a couple of challenges.
The hellish journey – we spent 24 hours travelling down from Chiang Mai to Koh Samui, this journey was made up of two long-distance buses and a ferry, we arrived on Koh Samui at 7.30am dazed and confused while we tried to find our way to Chaweng beach.
Bed bugs – before we managed to find our really nice hotel, we had a rough night after finding bed bugs at 11.30pm. We were out on the street with refund in hand looking for a last minute bed-bug-free room for the night.
Jellyfish and other annoyances – although we found some nice cafés and restaurants, there were a few annoyances on Koh Samui like the "Ice Bar" mobile advert that assaulted our eardrums every 15 minutes on the road or along the beach. There were much pushier people outside their stores, trying to get me to buy suits and drugs every time I walked past. There were many more tourists than on Koh Phangan which seemed to make it pricier and to cap it all off, we didn't like the jellyfish in the sea so we didn't go for a swim!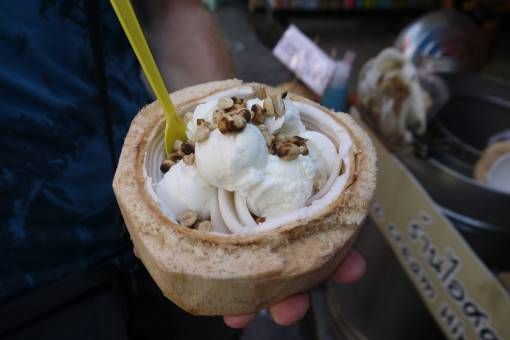 Although Koh Samui isn't our favourite Thai island we had a really nice time with my parents; it was great to see them after about seven months of travel. Skypeing is never the same as seeing family face to face in real life. It doesn't matter where you are so long as you are with the right people.