01 Feb

Cleaning Up in Vang Vieng Laos

Tubing in Vang Vieng, Laos – does the phrase conjure up images of drunken young backpackers partying on riverbanks under the sun and throwing themselves off rope swings into the water? Well, it certainly did for me before we visited Laos. I'd heard too much about intoxicated or perhaps just plain-stupid travellers injuring and even killing themselves during tubing trips in Vang Vieng to ever want to visit the place myself – it seemed the very epitome of bad tourism.






Last summer things got so awful in Vang Vieng following a recorded 27 tubing-related deaths in 2011 and at least seven in 2012* that the Laos government stepped in to clean up the mess. Riverside bars were dismantled and tubing once again became about floating lazily down the Nam Song River, taking in incredible views of the surrounding limestone peaks instead of getting off your face. So is it safe to visit Vang Vieng now? Andrew and I thought we'd give it a try.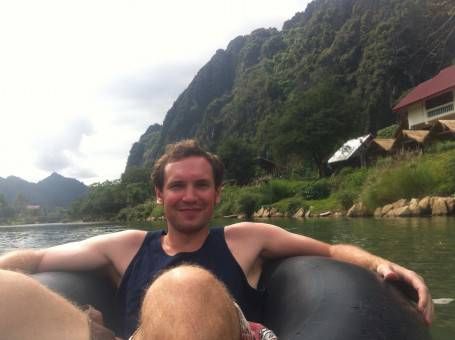 Tubing in Vang Vieng: Then and Now
Before the clean-up operation, Vang Vieng was often touted as the 'Party Capital of South East Asia'. The gentle pastime of floating down the river in old inner tubes unwittingly transformed the once peaceful farming village of Vang Vieng into a well-established backpacker hotspot, with an estimated 170,000 tourists visiting each year by 2012*.
Articles like this one by blogger Adventurous Kate paint a vivid picture of what tubing used to entail; dozens of dubious rope swings and water slides lined the bank alongside bars blasting music and offering free shots – tubing seemed to be less about actually floating down the river and more about getting drunk in the bars. The lack of safety standards and regulations coupled with young backpackers away from home and out to party resulted in frequent accidents and fatalities – the true figures of which no one seems to know.
As we sat eating breakfast one day in Vang Vieng, we got chatting to a Laos guesthouse owner who'd witnessed first-hand the effects of the old tubing culture. While locals were making good money from the boom in tourism, he told us, they were disturbed by the deaths and injuries which occurred primarily from people jumping into shallow, rocky water or drowning. It was also difficult for the modest Laos people to see half-naked tourists wandering around town and to put up with their constant noise and partying.
"It was so noisy that I often couldn't sleep; I'd just sit out here all night. Now, it's very quiet in Vang Vieng and people come here for the nature instead," the guesthouse owner told us, gesturing towards the limestone mountains across the river.
Our Tubing Experience in Vang Vieng Laos
The ghostly remnants of tubing culture are still visible in Vang Vieng today. Bars in town still play loud music or incessant repeats of Friends at all hours of the day, restaurants continue to advertise Happy Pizzas or Mushroom Shakes and there are still a fair few backpackers out to party. It's hard not to notice though just how empty the town feels; restaurants and hotels which must have been packed to bursting during the tubing heyday now court a dozen or so visitors at a time and the many businesses in Vang Vieng must be finding it much harder to survive. Hopefully, in time more tourists will return to Vang Vieng for the right reasons; to enjoy the scenery and the river.
Although Andrew and I found the atmosphere in Vang Vieng strange and were put off by all the bars, we were awed by the beautiful surroundings. On the second day of our visit we rented tubes from a shop in town and were driven four kilometres up river to begin our journey, accompanied by three girls clutching bottles of Beer Lao, seemingly intent on keeping the old tubing spirit alive.
Since it was dry season the sun was hot and the river was at its shallowest and slowest; it would take us two hours to float back to town. Settling into our tubes we set off under the blinding sun and within minutes we heard the ominous heavy thump of music in the distance puncturing the afternoon peace. As we sped closer three men called out to us from a wooden pier next to a deserted ramshackle bar, they held a rope to tow us in with, promising free shots and cheap beer.
Declining, Andrew and I floated onwards, relieved to find this was the first and last noisy bar we came across during our tubing trip. Although there are a couple more quiet restaurants on the riverside, all evidence of the dangerous rope swings and water slides of yesteryear have disappeared. Aside from the girls at the start of our journey who'd gotten off at the first bar, we saw only two other tubers while we were on the river, a pair of middle-aged Spanish women.
We craned our necks upwards towards the sky as we drifted onwards, watching clouds sail above the mountains and fields. Our journey took us past a local man fishing with his son in the shallows and a woman herding cows along the bank while a small group of tourists cut by us in kayaks. A bright-pink dragonfly landed on my knee and the time passed slowly and dreamily until we arrived back in town; our peaceful tubing experience at an end.
Pin Me For Later!
*Sources: The Guardian, Sydney Morning Herald
We think Vang Vieng is a great example of how bad tourism can be cleaned-up, what do you think?