30 Apr

Queensland highlights and wish-list

It's been five years since we visited Australia and we barely scratched the surface during our five-week adventure. So where would we visit on a return trip? Top of the list would be one of our favourite cities, Melbourne, followed by Queensland highlights. The Sunshine State has so much to offer, from Five World Natural Heritage Areas including the Great Barrier Reef, to bushwalking in the outback and whale watching. Combine that with 7,000 kilometres of idyllic coastline and an average nine hours of sunshine a day and what's not to love?
Our Queensland highlights
Back in 2013, we rented a car to explore the East Coast of Australia, from northern Cape Tribulation down to Bryon Bay. Along the way we had many of our top Australian experiences, from snorkelling on the Great Barrier Reef to sailing the Whitsundays. Here's a look back at our highlights.
Port Douglas and Cape Tribulation
The far north of Queensland is a tropical wonderland of palm trees, colourful birds and steamy temperatures. The waters are home to crocodiles and jellyfish and the shoreline laced with golden beaches. We drove all the way to Cape Tribulation, a deserted beach which joins two Natural Heritage Sites meet, the 110-million-year-old Daintree Rainforest and The Great Barrier Reef.
The Great Barrier Reef
We took a day trip from Cairns to snorkel on the Great Barrier Reef, one of the natural wonders of the world. The planet's largest coral reef system is home to 30 species of whales and dolphins and 1,625 species of fish, as well as 33 types of sharks and rays. We were lucky enough to spot a rare reef shark on our snorkelling trip, as well as giant clams and all types of colourful fish.
The Whitsundays
From Airlie Beach, we took a sailing trip on the Derwent Hunter. The Whitsundays is home to 74 islands and the Great Barrier Reef, some of its most picture-perfect spots are Whitehaven Beach and Daydream Island. Our trip was a windy one, which was great for sailing yet for not so great for snorkelling. Nevertheless, we still had fun riding the waves and soaking up the scenery.
Hervey Bay
Despite staying in a hostel with bedbugs, Hervey Bay was our favourite Australian beach town. Here, the locals seemed to outnumber tourists, the beach was full of dog walkers and we spent an afternoon cycling around the harbour and along the esplanade towards the sun setting over the sea.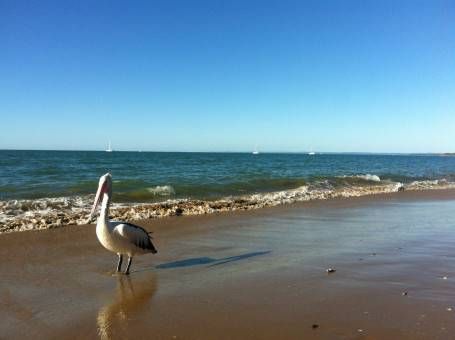 Lone Pine Koala Sanctuary
I'm fascinated by Australia's diverse wildlife and animals, which we caught a glimpse of at Lone Pine Koala Sanctuary near Brisbane. We got to see everything from cute koalas to crocodiles, lorikeets, kangaroos and sea eagles.
Queensland wish-list
From whale watching to bush walking, here's our Queensland wish-list.
Turtle Hatchlings
Turtles nest along the beaches in Southern Queensland in November and the cute hatchlings emerge between January and March. We'd love to watch one of these night-time hatchings, which are best seen from Heron Island, Lady Elliot Island or the Mon Repos Conservation Centre.
Visiting the Queensland Outback
We've never experienced the true Australian Outback, so I'd love to go bushwalking in Queensland. There are dinosaur fossils to discover near Winton, the Whitsunday Great Walk near Airlie, the Capricorn Caves and Undara, which is home to 164 volcanoes, cones and vents.
Whale Watching
From June to August, humpback whales migrate from Antarctica to Queensland in search of warmer waters to breed in. I'd love to do a whale watching tour from Hervey Bay, where the whales congregate before continuing up the coast.
Hiking in National Parks
These days we love to get our hike on, so we'd definitely spend some time exploring Queensland's many national parks. These include Bunya Mountain, Carnarvon Gorge, Lamington, Springbrook and Noosa, which also has a world-famous surfing beach.
Visiting Fraser Island
The world's largest sand island stretches 123km and is a World Heritage Site. We'd rent a 4×4 to drive along 75 Mile Beach, where you can stop off at shipwrecks and spot wild dingoes. There's also the Champagne Pools for swimming and beautiful Lake Mackenzie.
Pin Me For Later!
What's on your Queensland wish-list?