21 Oct

Our self-drive safari adventure at Addo Elephant National Park

A safari was top of our travel wish-list when we planned our summer trip to South Africa. However, while most people flock to famous Kruger, we decided to stick on the Eastern Cape and tack a visit to Addo Elephant National Park onto our Garden Route itinerary. Here's the verdict on our self-drive safari experience at Addo Elephant Park South Africa, including which animals we spotted, where to stay and how much it cost.

Why choose to visit Addo Elephant National Park?
Never heard of Addo? Neither had we until we started researching our trip. Turns out, it's the third-largest national park in South Africa and home to 600 African elephants, which counts as one of the densest populations in the world. The wildlife conservation area was set up in 1931 to save 11 elephants from extinction and has now expanded to include a marine reserve on nearby Bird and St Croix Islands.
One of the key reasons we chose to visit Addo rather than Kruger, which has a more diverse range of wildlife including all of the Big Five, is because we'd already taken a dream safari in Kenya years ago so we were fine with a more low-key experience. That being said, Addo does have some great advantages:
Unlike Kruger National Park, Addo is set in the malaria-free Sundays River Valley area on the Eastern Cape, so you don't need to take anti-malarial tablets.
The animals who live in Addo are protected, whereas some of the private game reserves on the Cape breed animals for horrible trophy hunting purposes.
It's the perfect safari option if you're driving the Garden Route, located just north of Port Elizabeth at the eastern end of the route.
Addo is a great self-drive safari destination, with easy-to-navigate trails, so you don't have to take expensive guided safaris or game drives.

Our Addo self-drive experience
First up, if you're coming from abroad and planning a drive in South Africa, you'll need to get an International Driver's Permit and make sure you're aware of local road rules. There are two entrances to Addo Elephant Park but the central hub is Addo Main Camp in the north. You can buy your conservation pass and organise game drives here, as well as visit the shop, restaurant and fill your car with petrol. We enjoyed looking around the Ulwazi Interpretative Centre, which tells the history of the park and its residents, spent some time watching elephants up-close at the underground hide and walked around the PPC discovery trail, an informative nature path.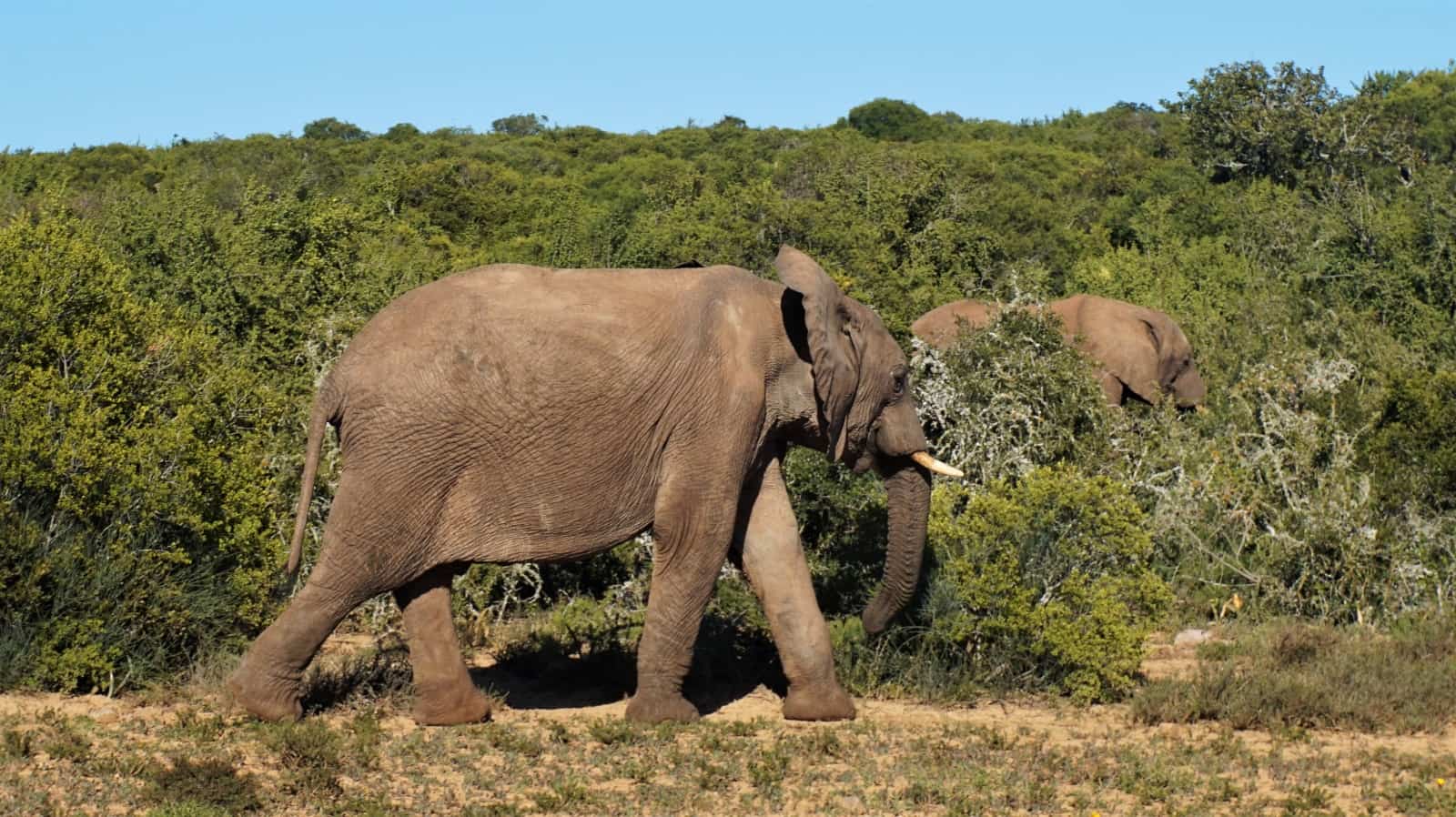 We spent two days at Addo and on the first, we woke at 5am to take one of the sunrise Addo game drives, which last for two hours. While it was interesting to hear facts about the park from our guide, the great thing about Addo is that it has well-maintained roads ideal for a self-drive safari. In fact, we saw more animals just driving around the park ourselves than on the guided safari. So, based on our experience, if you have your own transport it's best to skip game drives unless you want to take an Addo safari at night after the gates close.
You'll be given a map when you enter Addo that has all the self-drive routes, plus distances between the gates, clearly marked. The map also includes a list of things to do in Addo Elephant Park, which include hiking trails through the spectacular dune fields in Alexandria and forested paths in the Woody Cape. Unfortunately, we didn't have time to tackle any of these but they looked great.

Is a self-drive safari at Addo Elephant Park safe?
You might also be wondering about whether a self-drive safari is safe. Well, it certainly is at Addo so long as you stick to designated paths. The animals are used to cars but there are a few things you need to be careful of though:
Make sure you don't drive over piles of elephant dung, which are used by the endangered flightless dung beetle, a protected species in Addo.
Always keep to the 40mph speed limit and stick to the marked roads.
Only get out of your car in the designated areas. These include Jack's Picnic Site, the main camp area and five specified lookout points where you can leave your vehicle at your own risk.

What animals can you see?
So, what kind of Addo wildlife can you expect to see? The park has four of the African Big Five: the lion, buffalo, elephant and leopard, although there are no longer any rhinos living at Addo. The area is also home to a variety of other African animals, from all kinds of birdlife to black-backed jackals, meerkats, spotted hyenas, monkeys and honey badgers.
During our visit in July 2019, there were only nine lions in the park, so spotting one on an Addo self-drive visit was tricky. We saw a couple while on a guided drive, sitting in a large enclosure waiting to be swapped with another National Park in order to diversify the gene pool. Since they're nocturnal, it's also rare to spot a leopard (we didn't) but you may have some luck on a night drive. We did see a few buffalo grazing in the open plain areas in the south of the park though.
If your main aim is to see elephants, then you won't be disappointed. There are roughly 600 in Addo and we saw plenty while driving around the park. Our first sighting was a large herd of mothers with youngsters grazing by the road, crossing right in front of us. The elephants were completely unfazed by our presence and we were able to sit and observe them for ages.
We also found that the hides and waterholes around the park were great places to watch the elephants. Head to Hapoor Dam, named after one of the park's most formidable former residents. Once shot by humans, Hapoor never trusted them again and would charge cars whenever they got close. He was a firm leader for many years, yet when he was ousted by a rival, he broke through the 'elephant-proof' fence and was sadly killed.
During our two-day Addo Elephant Park self-drive, we saw plenty more amazing animals, from cute warthogs to ostriches, zebras, leopard tortoises and mongeese. Herds of shy buck species grazed throughout Addo, including elands, kudus, duikers and majestic red hartebeests. We were also lucky enough to spot the secretary bird, as well as more common herons, cranes and Egyptian geese.

Our verdict on Addo
We really enjoyed our self-drive safari at Addo and loved being able to go at our own pace, spot so many elephants and stop to watch the animals for as long as we wanted. When we visited in winter, it was pretty quiet so driving around was a peaceful experience. Addo was also super-convenient for us since we were driving the Garden Route.
However, the diversity of wildlife at Addo did pale in comparison to the safari we took in Kenya's Maasai Mara, where we spotted everything from giraffes to cheetahs, lions, baboons and hyenas. So, if you're looking for that once in a lifetime, dream African safari I'd recommend spending a bit more to visit one of Africa's more famous National Parks, like Kruger.

Addo Elephant Park prices
The Addo Elephant Park entrance fee is R307 (about £16 depending on the exchange rate) for non-South African visitors, per day. South African residents pay R77 and it costs R154 per day for SADC nationals. If you want to take a guided Addo Elephant Park safari game drive, that costs R430 (about £22) for a two-hour trip.
Addo National Park accommodation
There's plenty of affordable accommodation near Addo Elephant Park. You can search Booking.com and Airbnb to find options in nearby Colchester, which is just a five-minute drive to the nearest Addo gate. We stayed at the Sundowner Guesthouse in Colchester, which was a basic B&B, costing £22 per night for two people.
If you prefer to stay in Addo National Park itself, you can book online at sanparks.org for a space at one of their eight different camps:
Kabouga Cottage
Narina Bush Camp
Mvubu Camp Site
Nyathi Rest Camp
Addo Main Camp
Spekboom
Matyholweni Camp
Langebos
For an ultimate luxury experience (with a much bigger price tag) there are also three private lodges in the park:
Gorah Elephant Camp
River Bend Lodge
Kuzuko Lodge

Addo Elephant National Park location
Addo National Park is located in the Sundays River area of the Eastern Cape, just north of Port Elizabeth. There are two entrances to the park, the Addo gate entrance in the north and Matyholweni Gate in the south, which is just five minutes from Colchester. The gates are open from 07:00 to 18:00.
Pin Me For Later!