25 Oct

Hanoi Old Quarter in Pictures

Built over 1,000 years ago, Hanoi's Old Quarter is perhaps the most famous, historical area of the city.  It certainly seems to attract the most tourists, particularly around Hoan Kiem lake, where you can catch Hanoian's exercising every morning and evening.  We live just a 15 minute walk away from the Old Quarter and go there often, mainly to eat in our favourite cafes or pick up some groceries from one of the delicious French-style bakeries.
If you're heading to Vietnam then you'll probably need an invitation letter for your Visa On Arrival, we recommend Vietnam Visa as they provide a professional, efficient and transparent service.
The Old Quarter Hanoi
As the Capital City of Vietnam, Hanoi is a mix of modernity and tradition. In part the city is a bustling metropolis with offices, malls and governmental buildings but it's also steeped in history and tradition. Amongst the routines of daily life in these tree-lined, traffic-choked streets lie the shadows of past struggles with colonialism and war; the body of the nation's hero, Ho Chi Minh, lies embalmed in a mausoleum, red and gold flags line every street and you can spend days here visiting temples, museums and old French prisons.
The Old Quarter consists of 36 streets, each one specialising in a particular type of goods. Hang Dau, for example, is crammed with shoe shops while fine silks are sold in Hang Gai and there are dozens of jewellery stores along Hang Bac. The practice of having streets lined with identical shops selling identical products seemed odd to me at first, but it does make it easy to find exactly what you want; when we need school supplies like stickers or balls we visit the toy and party decoration streets.
Hanoi Old Quarter in Pictures
Here's a snapshot of daily life in Hanoi's Old Quarter, would you like to visit one day?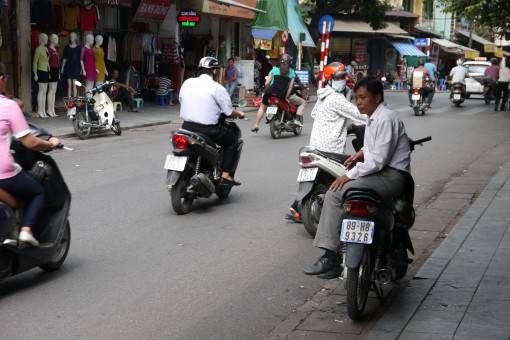 Pin Me!