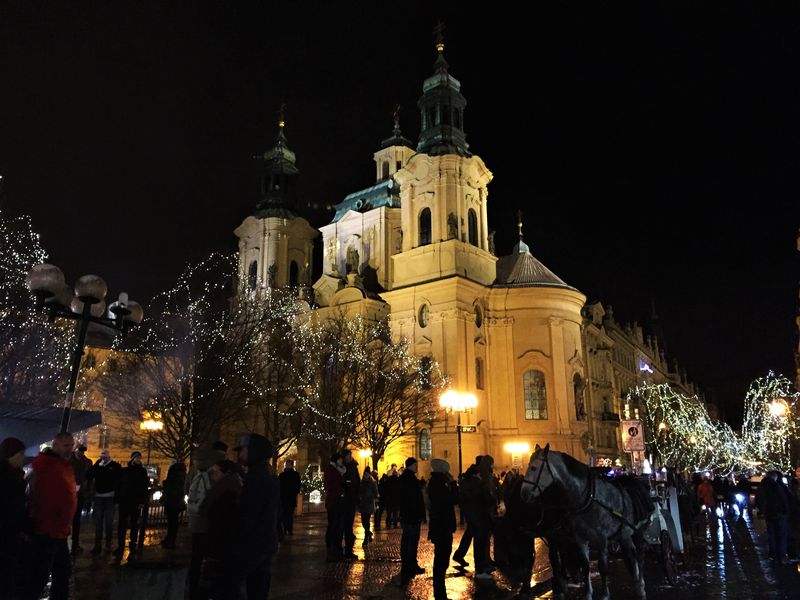 16 Mar

What's the cost of living in Prague?

Ever wanted to move to Prague in the Czech Republic? We fell in love with the city when we visited in summer 2016, so we decided to return, this time for a month in winter 2017. Our month was filled with tours and family visits, trips to the stunning Christmas market and hours spent wandering Prague's famous cobbled streets. We had a great time, but how much did it cost us? From accommodation to food, activities and transport, here's our cost of living in Prague breakdown.

Looking for more information about how much it costs to travel the world and live in various countries? You can check out all of our detailed travel cost breakdowns per country or check out these popular posts:

How much does it cost to travel Europe?
Our Eastern Europe travel costs
Croatia travel costs
Spain travel costs
Scotland travel costs
How much does it cost to travel America?
Cheap Accommodation Prague
Accommodation in Prague, like many capital cities, can be pretty extortionate. However, we kept our costs to a reasonable level by renting a one-bedroom apartment for a month in the suburbs of the city. The apartment had a full kitchen, living room and huge bedroom which gave us space to work as digital nomads, relax and even have family come to visit from the UK.
All bills were included, and although we did have some issues with the internet, the owner fixed it fairly quickly. The apartment had car parking and was only a 10-minute Uber journey or 25 minutes on the tram to the centre of Prague. We found our apartment on Airbnb, a service we regularly use all over the world. Read more about Airbnb ban issues and the good and bad aspects of using the site here. If you haven't already signed up to Airbnb, here's £25 towards your first stay.
| | | | |
| --- | --- | --- | --- |
| Expense | Total | Per person | Per night |
| Accommodation | £592 | £296 | £19.73 |
Prague Food Prices
Food prices in Prague are not all that dissimilar to the UK, they even have similar supermarkets like Tesco and Lidl, which we used quite a bit. Since we had our own kitchen we ate at home a lot, which was particularly useful as we had just transitioned to a vegan diet and most Czech food is very meat heavy. Check out our £20 grocery haul from Tesco in the picture below.
When it comes to eating out, if you're not vegan then you can find super-cheap local food, we liked to snack on potato twists while out and about. Expect to pay more at touristy restaurants in the city centre. We found a handful of great vegan restaurants in Prague that were reasonably-priced. For example, we ate burgers and potato gratin with drinks at Vegan's Prague for just over £25 and we spent under £18 in Lehka Hlava, where we enjoyed their daily menu (starter and main), the cold starter selection and two teas. We took Andrew's parents to Vegan's Prague and they loved the vegan goulash, picture below.
We stayed in Prague while the Christmas markets were on and probably about 50% of the stalls were selling food. To us it seemed overpriced and most of it was meaty so we avoided it. Be wary about buying food from stalls by weight; Andrew's parents paid £15 for a small plate of meat and potatoes. Prague is well-known for its beer and prices vary, but you can get a pint (568ml) for less than £1 if you don't mind being a little out of town. In the city centre, these prices can double or even triple. Try a taster selection (pictured below) for £6.60 at the Prague Beer Museum.
| | | | |
| --- | --- | --- | --- |
| Expense | Total | Per person | Per day |
| Food | £340.70 | £170.35 | £11.36 |
Prague costs – Transport
We took our car to Prague because we visited at the end of a three-month Europe road trip, so we've included  car insurance, vehicle tax and breakdown cover costs below. We also needed to buy a vignette to allow us to drive on the Czech motorways, but our fuel costs weren't too high since we didn't use the car all that much. If you're just visiting Prague or moving there, we'd recommend using the excellent public transport system rather than bringing a car.
We bought a monthly transport pass for £23.48 each, which allowed us to use the Prague trams, buses and metro as much as we wanted. When our families visited we also used Uber a few times as it was a little more convenient from our apartment in the suburbs, but Prague Metro prices are pretty reasonable.
Expense
Total
Per person
Per day
Car
Insurance
£50
£25
£1.67
Vehicle tax
£16.50
£8.25
£0.55
Full UK and European Breakdown Cover
£6.60
£3.30
£0.22
Fuel
£98.40
£49.20
£3.28
Vignette
£15.40
£7.70
£0.51
Other
Public Transport
£46.96
£23.48
£1.56
Uber
£34.70
£17.35
£1.16
Total
£268.56
£134.28
£8.95
Prague tourist attractions and costs
We visited a lot of Prague's main attractions back in 2016, so you can read about more about Prague attraction prices in this European cost breakdown post, including how much it cost to take a day trip from Prague to the creepy Kutna Hora Bone Church. This time around, we took a couple of really great walking tours, one was an excellent 'free' tour of the Old Town and Jewish Quarter with Next City Tours. We like this model because rather than paying a fixed price, you simply tip the guide at the end depending on how much you liked the tour.
As a birthday treat for my Mum when she visited, we also took a really great Night Watchman Tour, which delved into the darker side of Prague's history. We also watched  A Midsummer Night's Dream at the National Theatre with English subtitles and took a sobering day trip to Terezin, an old fortress town which was used by the Nazis as a concentration camp. Terezin is around an hour's drive from Prague, we drove ourselves but there are public buses and numerous companies offering day tours.
| | | |
| --- | --- | --- |
| Expense | Total | Per person |
| Terezin Memorial | £15.30 | £7.65 |
| Night Watchman Tour | £26.40 | £13.20 |
| Free Walking Tour | £13.90 | £6.95 |
| National Theatre | £31.70 | £15.85 |
| Total | £87.30 | £43.65 |
Total Cost of Living in Prague
So, how much did our Prague trip cost in total? We found it was one of the most affordable European countries and offered great value for money as a digital nomad destination. Here's a total breakdown of our cost of living in Prague for one month. By comparison, we spent £35 per day while living in Split, Croatia, and £32.43 in Toledo, Spain.
| | | | |
| --- | --- | --- | --- |
| Expense | Total | Per person | Per day |
| Accommodation | £592 | £296 | £19.73 |
| Food | £340.70 | £170.35 | £11.36 |
| Transport | £268.56 | £134.28 | £8.95 |
| Activities | £87.30 | £43.65 | £2.91 |
| Total | £1,288.56 | £644.28 | £42.95 |
Pin Me For Later!