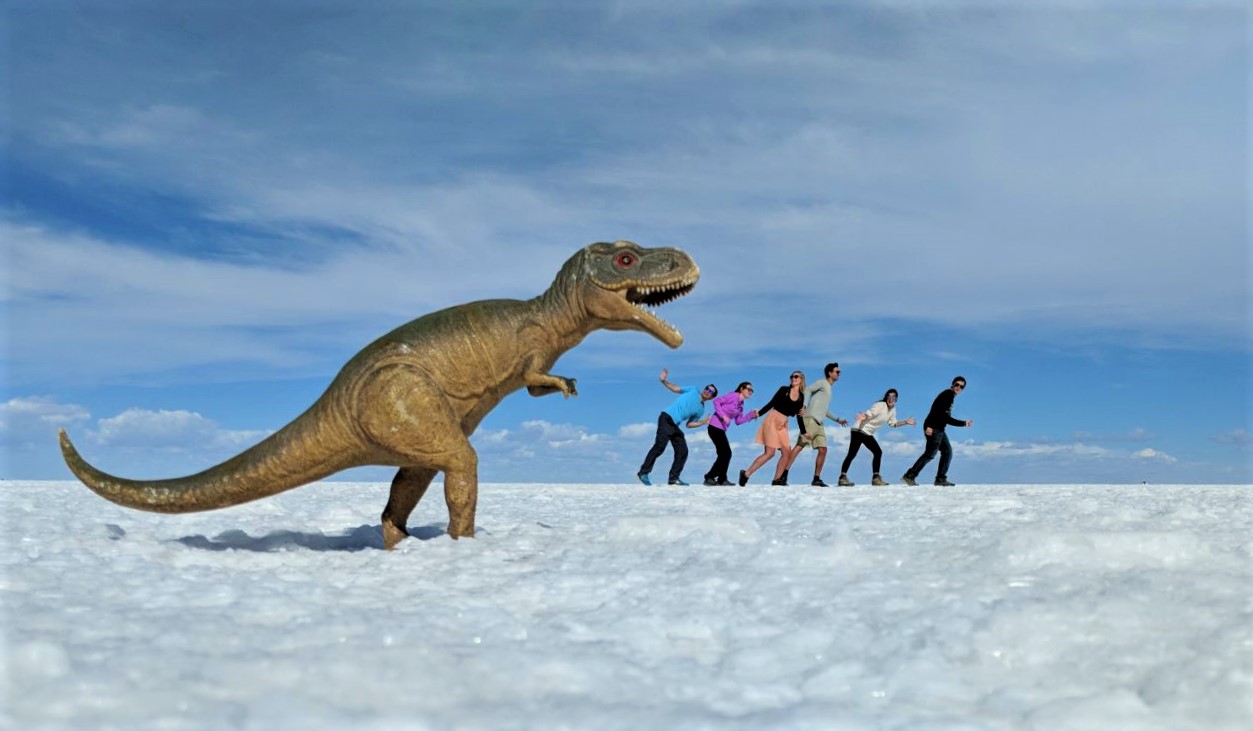 10 May

Our Bolivian Salt Flats tour – lagoons, flamingos and a pinch of salt

Picture a carpet of white salt stretching off into the horizon, a desert of crystals left behind by a prehistoric dried-up lake. Welcome to the Uyuni Salt Flats in Bolivia, one of the most inhospitable and unique landscapes we've ever visited. To explore this striking wilderness, we took a bumpy, three-day Bolivian salt flats tour in a 4×4 jeep. Along the way we saw cacti-studded islands, thermal springs and red lagoons spotted with hundreds of flamingos.
Planning to take an Uyuni Salt Flats tour (in Spanish: Salar de Uyuni tour)? Skip straight to these sections:
Our trip began in the dusty town of Uyuni in southern Bolivia, a tiny pocket of buildings surrounded by Wild-West-style scrubland. Every morning Uyuni's streets are full of jeeps with guides perched atop the roofs, strapping on tourist backpacks while the passengers scramble inside, six to a vehicle. The town is packed with Salar de Uyuni tour companies offering almost identical trips and the jeeps set off in fleet-like fashion through the desert, stopping at the same key sights and hostels.
Our Uyuni Salt Flats 3 day tour itinerary – day 1
Our journey began just outside of Uyuni at the Train Graveyard, a collection of salt-wind rusted trains imported from Britain in the 19th century. These were meant to transport minerals from the desert mines to coastal ports, but the project was abandoned because of technical problems and arguments with surrounding countries. Today all that's left of Uyuni's ambitious railway project is this eerie train cemetery and some long stretches of empty track.
As we drove further into the desert, the ground transformed from yellow dusty sand to blinding white salt that stretched as a far as the eye could see, melting into the blue sky. Stepping outside, I expected to feel cold ice beneath my feet but instead, there were hard crystals of salt, sharp enough to cut your skin. We stopped at the Dakar monument, the end point of the annual Dakar rally since 2014, before having lunch at an old Bolivia salt flats hotel.
This perfectly flat, never-ending white plain makes the ideal setting for perspective pictures and after lunch, we stopped in a patch of empty desert for a photo session. Our guide, Felix, lay down on the salt to capture images of our group as we posed with giant dinosaurs and Pringle cans. If you get the camera focus and pose just right, and tiny people can sit on the palm of your hand or be crushed beneath your feet. Trust me, it's so much fun practising perspective shots on the salt flats.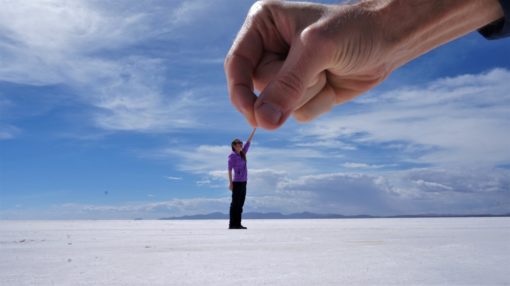 Salt Islands and sunsets
Driving onwards towards distant mountain outlines, we came across a rocky island adrift in the sea of salt. This cacti-covered mound, Isla Incahuasi, rises up into the desert providing the perfect vantage point to appreciate the sheer scale of the world's largest salt plains. It's definitely one of the most alien landscapes I've ever seen.
The Uyuni Salt Flats change dramatically throughout the year. From January to April they're soaked with water and provide spectacular reflections. We visited at the end of March when the plains were mostly dry with a few flooded pockets, so luckily, we got to experience both variations. As the sun started to leave the sky, we drove to a wet area and watched the incredible neon sunset, which was perfectly reflected in the water beneath. Andrew even waded out into the ankle-deep, freezing water to capture some photos.
It was dark by the time we reached our hotel for the night, a squat building made of blocks of salt. After dinner with our group, we settled into a freezing cold, cell-like bedroom to try and sleep. The cold, combined with an altitude of over 3,000 feet, made for a restless night and we rose early, ready for the next leg of our trip.
Day 2 of our Bolivian Salt Flats tour
The second day of our tour was all about lagoons, volcanos and flamingos. Leaving the salt flats behind, we moved into the Siloli desert, climbing higher in altitude across a rocky landscape littered with cacti and huge bald mountains. We paused for photos on a stretch of deserted train track and at one viewpoint, we watched the semi-active Volcan Ollague ooze smoke in the distance.
We drove for hours, surrounded by jagged mountains and herds of camel-like vicunas. The trip was punctuated by stops at strange rock formations and paper-flat lagoons filled with pink-and-white flocks of Chilean, Andean and James's flamingos. They created beautiful, mirror-like reflections on the lagoon's glassy surface.
In the afternoon, we drove across the Inca Pass, a canyon-like alley where we saw cute rabbit-like creatures, viscachas, and the guides threw bones to desert foxes named zoros. We were now in the scenic Eduardo Avaroa Andean Fauna National Reserve, a protected geo-thermal area that reaches 5,400 metres above sea level, as high as Everest Base Camp.
I could feel an altitude headache kick in as we sped over the sand dunes to a rock formation known as the Stone Tree and the famous Laguna Colorada. This red lagoon gets its name from the sediments and algae, which paint the water a light crimson colour. We watched steam rose from thermal pockets of the lake while flocks of flamingos grazed, backed by spectacular mountains and volcanos.
Our accommodation for the night was a run-down, extremely basic hostel. We spent the evening playing cards in the dining room, sucking coco candies to deal with the altitude and trying to stay warm. Before bed, we ventured outside to marvel at a night sky full of stars, including the silvery smear of the milky way.
Day 3 of our Bolivia Salt Lake tour
We got up in the frigid darkness at 4.30am and put on  every layer of clothing we had with us, plus hats and gloves. The jeep bumped through the desert to some geo-thermal wonders, including geysers that squirted boiling hot water into the dark sky and steaming pits capable of boiling you alive.
As the sun began to rise we reached the hot springs, where you can soak in steamy thermal waters while the sun slowly warms your face. The two small pools get crowded as every jeep congregates at this final, hour-long stop of the tour.
The rest of our tour group where heading to Chile, so we drove to the border via some final viewpoints of the Dali Desert and Laguna Verde. We waved goodbye as they waited for a bus transfer to San Pedro and made the long, seven-hour drive back to Uyuni with Felix, taking in our final views of the desert along the way.
Salar de Uyuni tour prices
So, how much does it cost to visit the Bolivian Salt Flats? Uyuni tours vary in price depending on which company you go with and the length of your trip. For the cheapest prices, be prepared to bargain and book in Uyuni rather than online. It's also more expensive to hire an English guide than a Spanish guide. A Salar de Uyuni 1 day tour will range from 150 to 200 BOB, £15 to £20, per person. Here's what we paid for our Salar de Uyuni 3 day tour. Bear in mind that all food, transport and accommodation is included in the tour cost:
| | |
| --- | --- |
| Expense | Cost in Bolivianos (BOB) and £ per person |
| Three-day, two-night tour | 750 BOB, £75 |
| Sleeping bag rental for two nights | 50 BOB, £5 |
| National park entrance | 150 BOB, £15 |
| Incahuasi Island entrance | 30 BOB, £3 |
| Total | 980 BOB, £98 |
Aside from these basic costs, we also spent:
| | |
| --- | --- |
| Expense | Cost in Bolivianos (BOB) |
| Bus from Potosi to Uyuni for two people | 160 BOB, £16 |
| Toilet stops | 30 BOB, £3 |
| Two pairs of gloves | 30 BOB, £3 |
| One pair of warm socks | 10 BOB, £1 |
| Toy dinosaur | 10 BOB, £1 |
| Eight litres of water* | 32 BOB, £3.20 |
| Two toilet rolls | 5 BOB, £0.50 |
| Flight from Uyuni to La Paz for two people | 1,340 BOB, £134 |
| Two nights in Beliz Inn, Uyuni | 420 BOB, £42 |
| Total | 2,037 BOB, £203.70 |
* The tour company told us to bring four litres of water each, but in reality we only used about half.
**Where to stay in Uyuni – we stayed at the newly-built Beliz Inn and would highly recommend it. The rooms were warm and clean and the shower was strong and hot. Best of all, there was a free breakfast and it cost us just £21 per night for two people. You can book Beliz Inn here or search for other hotels in Uyuni.
Tips for visiting the Uyuni Salt Flats in Bolivia
Where to start your tour – you can start in Uyuni or take a Salt Flats and Atacamba Desert tour from Chile. Tours are cheaper from the Bolivian side and you can choose to end your tour back in Uyuni like we did, or take an Uyuni to San Pedro tour, which provides a bus transfer from the Chilean border, it costs the same either way.
When to visit the Bolivia salt lake – April to October is the coldest season but also the driest, while November to March is rainy. We went for shoulder season at the end of March and experienced both dry plains and flooded sections, which were great for reflection shots. If you take an Uyuni tour in the rainy season, make sure your tour company provides you with wellies.
How to get to and from Uyuni – you can catch an overnight bus from La Paz to Salar de Uyuni for around £20. Buses get in around 5/6am. The journey is notoriously hellish, so if you have a bit more cash you can skip it by taking a flight. If you're travelling around Bolivia, break up the journey from La Paz by stopping in Sucre and Potosi along the way. For instance, we flew from La Paz to Sucre, caught a bus to Potosi and then another on to Uyuni.
Bolivian Salt Flats tour length – you can take a one-day trip to the Bolivian salt flats. Depending on the company, you may or may not get to see the sunset over the salt flats before returning to Uyuni. I'm really glad we went for the three day Uyuni tour, because we got to see stunning desert landscapes including the lagoons and flamingos. There are even longer tours available that combine hikes if you're looking for something more adventurous.
Save money with a Spanish guide – we decided to go with a Spanish guide because it was £50 cheaper per person. Andrew speaks Spanish, so we were still about to communicate with our guide and Andrew translated the little snippets of information he gave us for me.

Uyuni Salt Flats tour companies
We went with Andes Salt Expeditions (not sponsored) and overall, we really enjoyed the trip. Our guide Felix was lovely and went out of his way to help us take photos throughout our trip. However, we did hear from other groups that their Andean Salt Adventures guides were less than helpful. One was even really bossy and rude. If you book with this company, definitely ask for Felix to be your guide. If you're looking for the best Uyuni salt flats tour, we heard rave reviews about World White Travel and Red Planet Expedition.
Book your tour in Uyuni – we initially booked our salt flats tour online through Andes Salt Expeditions. We paid 900 BOB, £90 per person and later found out that the others on our tour paid between 700 and 800 BOB each by booking in person. Since we got less food because we're vegan, this was a bit of a slap in the face. We managed to get a partial refund because of these issues.
Bottom line, shop around to get the best Uyuni Salt Flats tour price. Just take a look at some online reviews about the company before you book. All companies seem to offer the same itinerary, stayed in the same hostels and served the same food. So, there's not much point in paying the more expensive prices. As a rule, aim to pay around 700 to 800 BOB (£70 to £80) for a three-day, two-night tour. You can even book your trip the day you arrive if you get there early, jeeps don't leave until 10.30am.
Pin Me For Later!
What to take on a Salar de Uyuni 3 day tour
Sun cream – take at least factor 30 (we use 50) as the sun is incredibly strong at altitude.
Sunglasses
Lip balm with SPF
Layers – bring lots of layers to deal with the extreme temperatures.
Gloves and hat – especially useful for the sunrise morning.
Sleeping bag – if you're very susceptible to the cold like me, rent a sleeping bag for the trip.
Medicine – take painkillers for the altitude, you can also bring coco candy and diomox medicine to cope with altitude sickness.
Toilet roll – stock up in Uyuni as the hostels don't have any.
Torch – handy for the sunrise morning and at night when the electricity may be turned off.
Camera and props – you can buy props such as toy dinosaurs and cars from the market.
Snacks – to tide you over between meals (especially if you're vegan like us!)
Water – your tour company will tell you to bring four litres per person. We used half this amount because of all the additional drinks we had with meals.
Have you got any more questions about our Bolivian Salt Flats tour? Ask away in the comments below.