06 Dec

Welcome to our new site! Plus, a life update

Hello! After weeks of radio silence, we're finally back with a new site design. What do you think? It's been a much longer, scarier process than we imagined and there's still lots more work to do behind the scenes, but we're pretty happy with the results. While the re-design has been dominating our free time for the last month, I thought I'd also give you an update about what's been happening here in the Algarve. So, here goes.
Conquering our site design fears
This re-design has been a really long, overdue project. For years, I've hated the look of our site. It felt dated, clunky and the back-end was (and still partly is) a technical mess. Our navigation sucked and it was impossible to find anything in the mass of over 400 blog posts. We knew we needed to update the design, fix the back-end issues and go painstakingly through each post, updating, SEO-ing and monetising.
It was such an overwhelming task and one that we never had the time, technical skills or motivation to tackle. With a full travel and work schedule for most of this year, I half-heartedly thought I'd wait till we were settled in Portugal to sort it out.  When we got here, Andrew started work and we had one guaranteed pay cheque every month so I didn't have to work crazily hard freelancing to keep us afloat. Now was the time to focus on the blog, but one thing was stopping me: fear.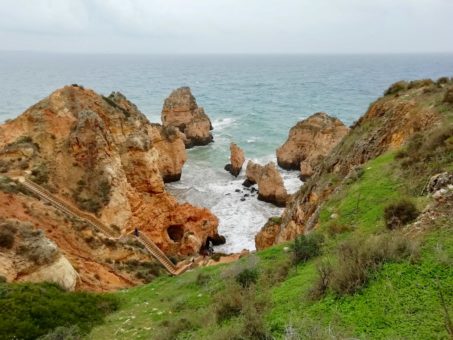 I didn't know where to start or who to talk to about re-designing, but I kept waking up in the night worrying about it all. Here's the thing: I've poured so much of my heart and soul into this blog over the years, but that's about all I've poured. We haven't invested any money in it, aside from hosting fees and tech help when the shit really hits the fan, like it did last autumn when we switched hosts twice in one month. So, now that we have a solid income and an empty travel schedule, I knew it was time to hire someone qualified to help re-design our site.
It's been a steep learning curve for us, one that involved trusting what is effectively an online journal chronicling six years of our life with a complete stranger (who was amazing by the way, let me know if you need a developer and I'll pass on his details), working out exactly how we want our site to function and how to make that happen. With limited funds for design work, we had to learn to use a range of new tools to complete a lot of the design ourselves. The upside is that we've learnt so much and feel more confident about our web skills.
Unfortunately, our web developer also uncovered some problems with our site that have likely been slowing it down for years. For one, the images are, I quote: 'a mess of Amazonian proportions'. We had a plug-in that we thought was optimising our photos, but turned out, it wasn't. Fixing the problem will take a few months as I have to painstakingly go through every photo on our site.

Although we still have some things to tweak, with the design finally looking better, I also feel motivated to try and boost traffic by improving the SEO of our existing content (something I usually try to ignore). Oh, I also have a shed load of new content to write from our travels earlier this year. In short, the work has only just begun.
Life update from the Algarve
In the midst of all this, I've been continuing my freelance writing work, but I have cut back on the volume to tackle this project. I hadn't realised how much mental pressure I felt earlier this year when my freelance work was pretty much our sole income stream while we travelled through the Americas. Psychologically, I feel so much better now that I'm not the main breadwinner and Andrew is teaching again. Still, now the most pressing work on the blog has been completed, I'll re-focus on building my freelance work again after Christmas.
Meanwhile, Andrew has really settled into a working routine at his international school here in the Algarve. He's been enjoying small class sizes, school trips, an enterprise week making Christmas decorations and teaching some one-on-one French and Spanish GCSE classes. Honestly, after nearly six years of travelling and working at home together (minus teaching in Vietnam) it has been a weird experience for me. At first, when Andrew would leave for work in the morning and I faced a whole day at home alone, even though I'd be working for most of that time, I felt incredibly lonely.
It hasn't been easy adjusting to this new, stationary lifestyle in general, especially since I haven't fallen in head-over-heels in love with the Algarve. Part of the reason for this is where we live. Our apartment may be beautiful, situated close to a pristine red-cliff beach, but it's also in a very fancy resort area in the middle of nowhere. With just one car, I'm stranded here when Andrew is at work and as soon as the weather started to change in November, the place became a ghost town. The apartment is built for heat, so now the weather's cold it can get pretty nippy in here too and if there's one thing I hate, it's being cold.
Although it'll be great again when the weather warms up, we've come to the conclusion that the Algarve lifestyle really doesn't suit us. I miss being in a city full of culture where I can get around on public transport and feel independent. That's partly what I loved about living in Thailand and Vietnam, along with the tropical climate and connecting with likeminded people. The main demographic in the Algarve seems to be much older, richer, British ex-pats, particularly here where we're surrounded by golf courses and luxury villas. We don't fit in and it's not exactly the Portuguese experience we'd imagined when we initially set our sights on moving to Porto.

That all sounds really negative, but I'm really looking at this next six months as a stepping stone. Already, this experience has helped us figure out where we'd like to be next year and Andrew has gained some great experience at an international school, which was our main reason for coming here. Wow, I hadn't realised how much I needed to spill my brains until I started typing this. That's what you get for neglecting to blog for so long!
The upsides of life in the Algarve
That's not to say that we're hating our time here. In fact, when the sun is shining the Algarve is a beautiful place to be. My parents and our friend Heather have been over to visit and we've spent as much of our free time as possible exploring the area. I'm planning a post about our top places to visit in the Algarve, but so far, we've loved strolling around the old towns in Lagos and Faro with their tiled buildings and whitewashed churches.
We took a boat trip with my parents along the jagged coastline out west, the Ponta de Piedade, ducking into grottos and checking out impressive rock formations. With Heather, I also went on a boat trip in Faro's Ria do Formosa, a protected park where we saw tons of rare and exotic birds. We stopped at cute sandy islands filled with lighthouses, white-sand beaches and pretty Portuguese cottages.
Up in Silves, we explored an old hillside fort, then checked out Albufeira and some pottery villages. Our favourite place in the Algarve so far is probably the town of Loule, which on reflection, would have been a better place to live. There's a huge market on a Saturday where you can buy all kinds of fresh produce and the town is actually filled with Portuguese people, rather than just ex-pats and holidaymakers. We also found our favourite vegan restaurant in the Algarve to date there: Vegan Joe's.
Although we've been pretty stationary, we did take a drive up to Lisbon earlier this month when Andrew was off work for a public holiday. It felt amazing to soak up the bustle of daily life in a capital city again. We didn't do much besides wander around and visit the castle, but we also got to meet up with our friends Patti and Abi of One Road at a Time. We last saw them in autumn 2017, when we were all temporarily living in Porto, which is our ideal Portuguese location. It was great to catch up with them and see how much has changed for all of us in just one year.
Anyway, I think I've rambled on long enough for one post but I promise to update the blog more often now the design work has finished. December will also see us heading back to the UK for the Christmas holidays (loving those cheap Ryanair flights!) which we're super excited about, especially since it means meeting our new nephew! As always, thanks for reading and let us know what you think of the new site in the comments below.