12 Dec

Journeys from Hell

Since leaving the UK all those months ago we've travelled thousands of miles across the world. In the process we've taken a staggering 55 buses, 39 trains, 16 flights, 42 boats and 117 other journeys by taxi, tuk tuk, jeepney or songtheaw. I can't even begin to count the number of hours that we've actually spent just moving from one place to the next, and while we enjoy catching a glimpse of real life on public transport and watching beautiful scenery roll by the windows, some of the journeys we've taken have been nothing short of horrific.
Worst Journeys from Hell
The days of zipping around in the comfort of a rental car at the beginning of our trip in New Zealand and Australia became a thing of the past once we hit Asia and were relegated to often cramped, delayed, dirty, noisy public transport. From breakdowns and delays to cramped conditions and travel sickness, here are the worst journeys we've been through since beginning our trip:
The 13-hour bus ride from Sam Neua to Luang Prabang in Laos. As well as being battered by freezing air from the open windows and assaulted by loud music, we had to contend with locals throwing up all around us because of the windy roads and lobbing their sick bags out of the windows. As is so often the case in Laos, every inch of space on the bus was crammed with luggage or bags of rice and every available seat was full, with many passengers perching on the tiny fold-up seats in the aisles. These conditions wouldn't have been so bad over just a few hours though, it was the fact that we were on the bus for 13 hours straight that made it so hellish – never again.
The journey from Malaysia to the Philippines. While our flight from Kuala Lumpur to Clark itself was only around four hours long, our flight was changed to six in the morning, meaning we needed to arrive at the airport around four. To save money we decided not to book a room for that night and simply camp out at the airport instead, settling down on the hard floor while we waited to get on the plane. On arriving in Clark we then got the bus straight to Manila; unfortunately, we hadn't written down the name of our hotel so we had to traipse around with all our stuff, exhausted, looking for somewhere with internet when all we wanted to do was get to the hotel and collapse into bed.
The overnight bus from Manila to Banaue.  I was sick with a bad cold the night we took the nine-hour bus ride from Manila to Banaue in the Philippines. As well as leaving almost an hour late, we were pelted with freezing cold air conditioning for the entire journey as we climbed high into the mountains along windy, steep roads, being thrown from side to side. I managed to doze off at one point only to awake and find my ears completely blocked because of my cold and how high up we'd gone; I found it impossible to equalise them for the next couple of days. Being sick on overnight buses, especially when they have freezing air con is not a fun experience.
Getting squashed in a jeepney. One of the scariest journeys we've taken was by public jeepney in the Philippines. We were the first to board the colourful, open-ended van and settled on to one of the benches for the hour-long journey. As we moved along more and more passengers piled on, some carrying luggage and kids until all the benches were full and another had been slid into the middle of the van. Eventually there were about 40 people crammed into the tiny space while others hung onto the back and sides of the vehicle and school boys climbed up onto the roof. It was sweltering and suffocating inside the jeepney and I began to feel claustrophobic, every time we went over a pot hole the roof would buckle and I'd imagine it was going to collapse on us all; when we swerved around a corner I  felt the whole vehicle was about to tip over. I was so glad to finally get off that jeepney.
The 21-hour night train from Bangkok to Chiang Mai.  This journey was supposed to take 15 hours but was late leaving and then stopped and started so much that it actually ended up taking 21 hours. If the air con wasn't on so fiercely all night and the toilets weren't so disgusting things wouldn't have been so bad.  To cap it all off, we paid £10 extra per person to board this particular train because all the public tickets were sold out and we had to go to a tour operator instead.
What to Expect from Travel Journeys
Here are some of the annoying things you can expect to experience when you travel, particularly in Asia:
Loud music or music videos – don't ever expect a quiet journey. In Borneo we were subjected to endless amateur Malaysian music videos on buses, while on countless other journeys around the rest of Asia we've had to put up with loud, sometimes awful, music – which can be especially annoying when all you want to do is sleep.
Cramped conditions – you will often be squashed while travelling, particularly on public transport in Asia. People will continue to pile onto vehicles even if there aren't any seats left; they'll take out tiny plastic stools and sit in the aisles and they'll hang onto the sides or climb on the roof. In addition, there will be luggage everywhere, live chickens under seats or goats strapped to the roof.  In short, you will not be comfortable (but if you are short, it's a bit more comfortable).
Manic drivers – there will be times when you'll sit, fearing for your life while a driver nonchalantly speeds over narrow, pot-holed roads or around the edge of cliffs. Count yourself lucky if you ever manage to locate a seat belt too.
Horrid toilets – toilet stops are one of the things I used to dread about travelling in Asia, but after nine months I've gotten used to dealing with the disgusting conditions and squat toilets we're often forced to endure. Some toilets are better than others but rest stops are never really a fun experience, especially when you're paranoid the bus will leave without you while you're trying to pee.
Dangerous roads – be prepared to experience pot-holes, sheer drops, dirt paths and windy, steep roads when you travel, don't expect your driver to slow down or care about any of these things either.
Odd hours – chances are, you'll end up travelling at odd hours, especially if you book cheap flights. Night buses and trains are bad enough already but they also tend to leave and arrive at odd hours, sometimes getting in at three in the morning.
Freezing air con – this is the thing I dread the most; being unable to escape the freezing air conditioning that seems to always be turned up full blast on buses and trains in Asia. Even the locals get on wearing jumpers and hats because it's so cold. I often end up covering my entire face with a sarong and wearing half my wardrobe.
Locals throwing up – if you're travelling on windy roads, be prepared for lots of vomiting. While westerners seem better able to cope with these kinds of journeys (or perhaps they simply take travel sickness pills), there's usually at least one local spewing into a sick bag.
Delays – having lived in London, I thought I was used to transport problems but we've experienced some epic delays since we've been travelling. The longest was the six-hour train delay mentioned above but it's rare not to experience at least an hour's delay when you're travelling by bus or train in Asia; flight delays are another hazard.
Breakdowns – we've been pretty lucky actually that we've only experienced one breakdown so far on our trip; in Laos we were delayed 45 minutes while the driver of our bus bashed about underneath the vehicle before we got going again.
Locals peeing by the side of the road – locals, especially in the Philippines and Laos for some reason, think nothing of just peeing by the side of the road; men and women alike. So far I haven't been so desperate that I've had to join them.
Paying 'Tourist Tax' – you will often find that as a tourist, you will be charged extra for the same journey a local takes, there is very little that you can do about it.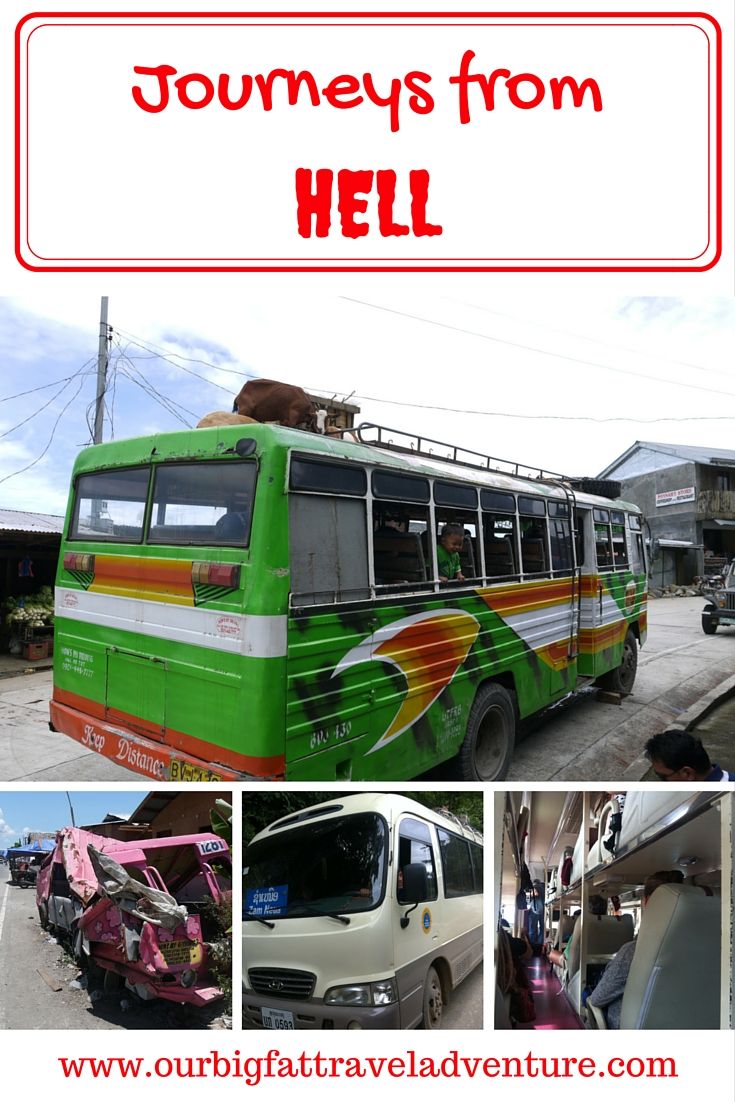 Pin Me!
So, want to tell us about your journeys from hell?