20 Dec

How We Chose Where to Teach English in Asia

We were totally overwhelmed when choosing where to teach in Asia. Should we select a country we'd been to and loved, or go for somewhere completely new? After much debate and research we narrowed down the options to five countries and analysed which one would be best in terms of pay, benefits and working hours – here's what we found out.

2018 and 2019 teaching opportunities in Hanoi – the language centre we used to work for in Hanoi is now recruiting teachers for 2018 and 2019. If you're a native English speaker with a degree and TEFL qualification, contact us now and we can put you in touch with the director for an interview.
Teaching in Asia: The Options
While China, Hong Kong and Saudi Arabia are popular countries to teach English in, we narrowed down our options to the following five places we thought we'd feel most comfortable in:
Thailand
As I've mentioned often, Thailand is one of our favourite countries in South-East Asia and somewhere we could easily see ourselves living. Having already spent several months in Chiang Mai over the course of our trip we had our eye on settling in this city with its delicious vegetarian cafes and easy access to beautiful northern Thai countryside.
Vietnam
We fell in love with Hanoi when we visited during our month-long tour of the country. The city is big and vibrant and although there are some western comforts like malls and multiplex cinemas, Hanoi is far less touristy and westernised than Thailand, so we felt living there would be more of a challenge and give us a better insight into local life.
South Korea
Although we hadn't gotten around to visiting South Korea we'd heard lots of stories from people who taught English there through the public school EPIK programme. We knew wages were high and benefits were good and it seemed the ideal choice for us; we'd be able to explore a new country and earn a lot of money during a short space of time.
If you're interested in teaching English in South Korea, then fill out this form and the team at Teach and Travel Recruitment will get back to you as soon as possible.
Taiwan
For a long time we had our heart set on teaching in Taiwan, a country we'd heard rave reviews about. We went as far as taking a three-week trip to the country to get a feel for what it would be like to live there. Although we really enjoyed our time in Taiwan we were worried about how expensive the living costs were, particularly in the capital, Taipei, where we'd most like to live.
Japan
An expensive country we'd love to explore if we had a bigger budget. We considered teaching in Japan for the high wages and chance to explore the country while earning but we were doubtful how much money we'd be able to save because of the high living costs.
Where's the Best Place to Teach English in Asia?
Having narrowed down the options we did some research on the practicalities of teaching in each of those countries. Since we needed to refill our savings account after a year and a half of travel, our main concerns were pay rates and start-up and living costs for each country; we also needed to know what time of year we could start a job and how easy it would be to find one. We used facts and figures from the websites Teachaway, Reach to Teach, ESLStarter and Move To Taiwan as well as our experiences in the countries we'd visited to compile the following information.
| | | | | | | |
| --- | --- | --- | --- | --- | --- | --- |
| Country | Pay | Hours | Vacation | Cost of Living | Start-up costs | Benefits |
| Thailand | $1,000 per month | 35-40 hours a week | Thai holidays | $1,300 for food, rent, utilities, and miscellaneous costs per month | Flights, money for rent, food and entertainment for the first month | Healthcare and visas paid for, some schools may provide housing |
| Vietnam | $20 to $23 per hour. | Minimum 15 hours of teaching per week | 20 to 30 days unpaid | $1,175 for food, rent, utilities, and miscellaneous costs per month | Flights, money for rent, food and entertainment for the first month | Work permit, advance on first paycheck and help with organising a visa and finding an apartment |
| South Korea | $18 to $23 per hour | 22 to 30 teaching hours per week | 7 to 10 days plus 13 national holidays | Accommodation is provided by your employer | Money for food and entertainment for the first month | Furnished apartment, round trip airfare, 50% healthcare, one month severance pay, rural placement bonus and settlement allowance |
| Taiwan | $18 to $24 per hour | 20 to 25 teaching hours per week | 10 to 20 days per year | $1,500 for food, rent, transport and utilities per month | Flights, money for rent, food and entertainment for the first month | Possible airfare reimbursement, housing allowance and completion bonus |
| Japan | $25-$28 per hour | 26 to 30 teaching hours per week | 5 to 7 weeks (partly paid) | $450 average rent per month | Flights, money for rent, food and entertainment for the first month | Possible healthcare and completion bonus |
It's important to note that the figures above are guidelines only; exact pay rates depend on what qualifications and experience you have and who you want to work for. Each company offers different contract lengths, pay rates, benefits and holiday allowance. However, the figures for Vietnam are based on our experience of having taught here for almost four months.
Contract Lengths
From our research we discovered that companies usually offer 12-month teaching contracts in Asia. In Vietnam however, nine-month contracts to cover the academic year are available and you can sign up to six-month contracts  in Japan and Taiwan. Contract start and end dates mostly follow the academic year, beginning in late August or the beginning of September and finishing in May; six month contracts also start in January or February.  It's important to note that you don't have to sign a contract with a company to find work. In all of the countries we researched we heard stories of people who worked casually for different language centres, schools or taught private classes.
Teaching Locations
We knew we wanted to live in a city and lucky for us, most of the teaching positions available in Asia are in the big cities. However, there are jobs available in rural locations if you're interested in working somewhere quieter. Not surprisingly, wages tend to be higher in the cities but living costs are lower in the countryside so this evens things out.
Visas and Work Permits
We discovered that we'd need a work permit and visa for every one of the countries we were considering teaching in, which means extra expense and hassle. One of the benefits of signing a contract with a language centre or organisation is that they will often pay for and organise your work permit and visa. If you're planning on working casually you'll likely have to leave and re-enter the country every few months to top up your visa.
Who Should you Work for?
In all of the countries we considered we  could work in either private or public schools, each option has its own pros and cons. Public schools usually have better hours as you'll teach between 08.00 and 17.00, while private schools and language centres also operate in the evenings and at weekends. The advantage of private schools is that you can often earn more and get bigger and better benefits and bonuses.
Qualifications
Having an English teaching qualification such as a TEFL, TESL or CELTA will probably help you find a job in Asia; employers also prefer native English speakers with a degree. If you have teaching qualifications and experience from your home country, like Andrew, you'll likely find a job very easily and earn a higher salary too. Saying that, we do know teachers in Vietnam who aren't native speakers and who don't have teaching qualifications, so each employer has different requirements.
So, Where Did We Decide to Teach?
We seriously considered teaching in South Korea and went as far as talking with a recruiter and gathering some of the documents we'd need for the EPIK application process. However, after we found out that we'd missed the cut-off point for jobs starting in September we had to shelve this plan. We crossed both Japan and Taiwan off our lists because of the high living costs and lengthy application processes for positions in both countries.
That left us with Thailand and Vietnam. I badly wanted to live in Thailand but due to its popularity with expats, teaching jobs appear to be harder to come by and are typically less well paid than in other parts of Asia. Since I had no prior teaching experience we decided that Vietnam, which is crying out for native-speaking English teachers and offers good pay rates, was the place for us. You can read more about our teaching experiences in Vietnam here:
Teaching English in Vietnam: Pay, Visas and Finding a Job
What's it Actually Like to Teach English in Vietnam?
Celebrating Teachers' Day in Vietnam
Why Take a TEFL Course
Survival Tips and Resources for New TEFL Teachers
How Much Money can you Earn from Teaching in Vietnam?
Are you looking for a TEFL course? TEFL UK are offering our readers discounts on their online and in-house, fully accredited courses, you could save nearly £30! If you want to take advantage of this great offer then send us a message using our contact form (include your name and 'TEFL UK' as the subject) and we'll get you the following discounts:
120hr Advanced Interactive TEFL Program, our price – £90 (usually £99)
150hr TEFL Masters Program, our price – £150 (usually £179)
70hr Intensive Teaching Business English Program, our price – £79 (usually £89)
TEFL UK Accredited 20hr Teaching Practicum, our price – £129 (usually £149)
Want to Teach in Vietnam?
Would you love to teach in Vietnam but feel too overwhelmed to take the leap? Then we'd recommend contacting Teacher's Friend Vietnam. This small, independent company is run by real teachers who have actually lived and worked in the country. Georgie and her team will help you find jobs with reputable schools that will provide you with a work permit, excellent resources, ongoing training and a great salary. They'll also help you find an apartment, get a visa, find a motorbike, meet other like-minded people and offer support throughout your time in Vietnam.
Teacher's Friend offers packages for teaching in Hanoi, HCMC and smaller cities and the countryside. If you're interested and are a native English speaker with a Bachelor's degree, clean police check and a practical TEFL certification of at least 120 hours (or are willing to obtain one), contact Teacher's Friend to get started. Georgie is kindly offering our readers a 10% discount on packages, just use the code TFV01 when you contact them.
Sources: Teachaway, Reach to Teach, ESLStarter, Move To Taiwan and our own experience of teaching in Hanoi, Vietnam.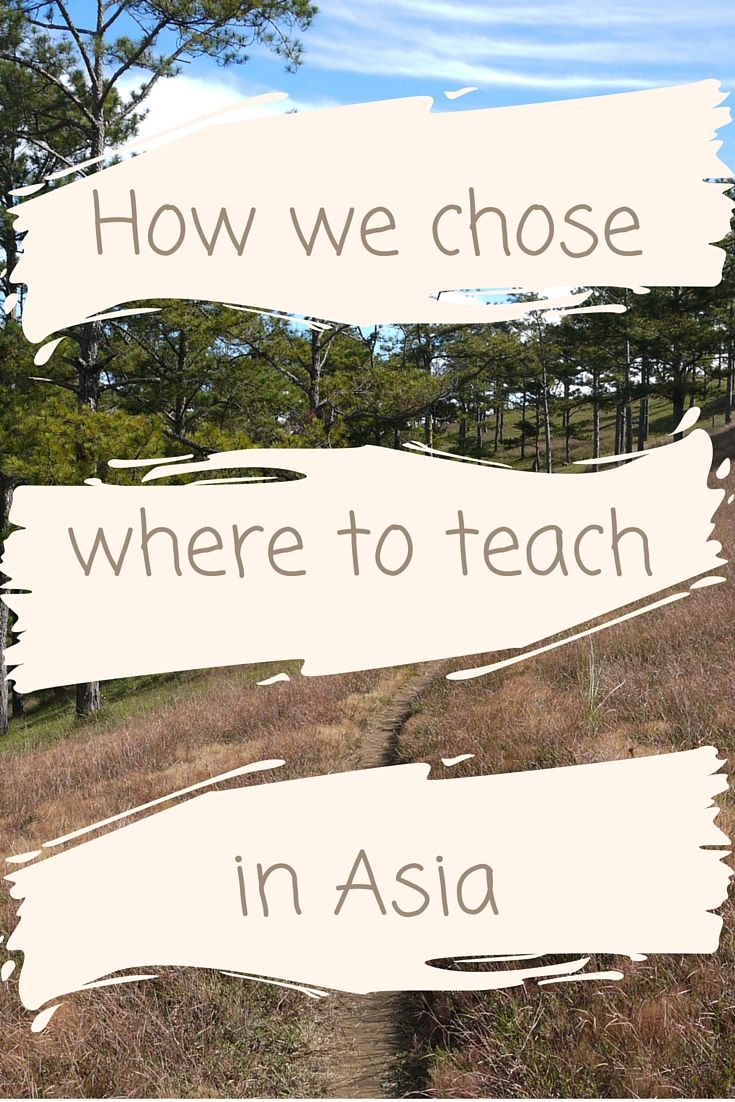 Pin Me!
Have you taught in any of these countries or are you considering working in Asia? I'd love to hear your thoughts on which country you think is best to work in.