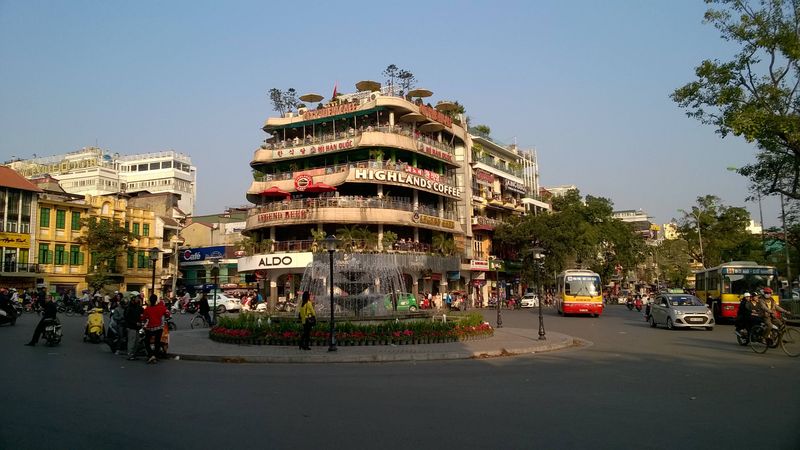 11 Apr

What I will and won't miss about life in Hanoi

It's hard to believe that in two months' time we'll be relaxing on a beach in Thailand. As we're nearing the end of our stay here in Hanoi we often find ourselves thinking about the things we will and won't miss when we leave Vietnam.

If you're heading to Vietnam then you'll probably need an invitation letter for your Visa On Arrival, we recommend Vietnam Visa as they provide a professional, efficient and transparent service.
What I'll miss…
As the weeks here slip by I look forward to our future travels but I also feel twinges of nostalgia everyday for the aspects of our life here that I love.
The people
I will miss the long weekend lunches with teaching friends, gossiping with my Vietnamese co-workers and teaching (almost all) of my smiling, boisterous school kids. It will also be strange to no longer see the people in our local neighbourhood who have become so familiar to us now; the security guards who sit in our courtyard drinking tea all day, the market women on Tran Phu street who sell us fruit and veg; the staff in our local Joma who slip us money-off coupons for being such loyal customers and our favourite masseuses at Blue Diamond Spa. I will even miss the random old Vietnamese women who occasionally feel the need to escort me across busy streets.
Living for less
Thanks to high teaching wages and an extremely low cost of living, in just nine months we've managed to bump our bank balance back up to where it was before we initially left the UK over two years ago. This short period of work may have been incredibly intense, but it was worth it because we can now afford to spend three months in America later this year and then head off to Europe with a fair chunk of money still in the bank. Saving all that cash doesn't mean that we've been living ultra-frugally here though, we've actually been living far more extravagantly than we could afford to in England. We eat out two or three times a week, have regular massages and take trips away whenever we have time off from school.
Teaching
There are still days when I vow never to step into a classroom again once we leave Vietnam, but I think I've finally got into my teaching groove now and I'm sure I will miss aspects of this job. After months of frustration, tears and hard work I feel I've finally learnt to (usually) let things go rather than descend into a pit of despair or get furiously angry when I have a bad lesson. It's been really hard work but I've enjoyed the challenge of teaching; every day I've had to force myself to do things I find uncomfortable and scary but over time the job has gotten easier and I've developed skills I never even knew I had.
Asian culture
We've spent almost two years in Asia now but we still find life here fascinating, exciting and at times, bafflingly alien – we're certainly never bored! As frustrating and chaotic as Hanoi often appears to me, there are aspects of Asian life that I love; the strong ties people have with their families and communities, the habit of eating meals communally on tiny street-side stools and of taking afternoon naps to escape the heat and humidity.
Familiarity and routine
Even though I love to travel and can't wait to get back out and explore again, there's always a part of me that relishes familiarity and routine. After a year and a half of living nomadically, I have loved having our own apartment again with space to put away our stuff, a kitchen to cook food in and a sofa to relax on. These are all things I know I'll miss when we pack up and leave again.
What I won't miss…
As with everything in life, you take the bad with the good and that's certainly true of our experience in Vietnam. Don't get me wrong, our time here has been mostly positive, but there are a few things about life in Hanoi that we definitely won't be sad to leave behind.
The corruption
Recently, a western friend of ours recounted the story of how he was stopped by traffic police while driving in Hanoi. As he was driving without a licence, as many foreigners do, the police man threatened to tow his bike away unless he was willing to pay a substantial one million dong bribe (about £30). Need a visa extension? It's perfectly possible to get one here in Vietnam if you bribe the right official. Work contracts are often not worth the paper they're written on and we've heard tales of employers refusing to pay workers or sacking people at a moment's notice.
One of the issues that disturbs us most is that critically endangered wild animals like pangolins, turtles and primates from Vietnam are illegally caught by poachers and sold here or in China, where they're considered delicacies or used in traditional 'medicines'. Although there are conservation efforts ongoing, as we witnessed on our visit to Cuc Phuong National Park, there are also disturbing stories like this one, about park rangers – the very people meant to protect these rare animals – who instead sell them to restaurants for a huge profit.
Dog meat
It sounds like a cultural stereotype but it really is true, some people eat dogs in Vietnam. There are restaurants here that specialise in dog meat and I've been unlucky enough to spot several dogs being roasted on spits as I've walked around the city. Although it's becoming more common for Vietnamese people to keep dogs as pets and there have been news reports about dog-nappers being attacked by pet owners, it's still legal and generally acceptable to eat dogs here. As a vegetarian and a dog-lover, this is something that I will never, ever get used to and I'll be glad to get back to the UK where pets are common-place and dogs are thought of as friends, not food.
Crazy drivers and roads
While I quite enjoy the freedom of hopping on the back of our Little Cub to go across town, I will not miss the chaos of the roads here or the crazy drivers we share them with. Just last week Andrew slowed and indicated that we were turning right but a stupid Vietnamese driver, who happened to be playing with his phone at the time, tried to speed past us. He ended up crashing into us and breaking a tail light, but was he sheepish or apologetic? No, he beeped his horn at us and shouted a few angry words in Vietnamese! Worse still, there's no recourse for this kind of thing, most people drive un-insured and if a crash happens they just pick themselves up and drive off.
Being a pedestrian isn't much easier in Hanoi either; in status terms you're the lowest of the low and are beeped at constantly if you dare to try and cross the road. Walking on the pavements here is often impossible because they're blocked with parked motorbikes or food stalls, so you have to walk on the edge of the road, stay alert for racing motorbikes and endure being constantly assaulted by beeping horns. Drivers typically beep to let you know they're there, but it feels like they're actually saying: Hey Pedestrian Scum! You have two seconds to get out the way or I'll run you over. How nice it will be to get back to England where they actually have proper traffic rules, lanes and pedestrian crossings.
The noise
The crowing of roosters and barking dogs keep us awake at night and the constant roar of motorbikes and beeping horns is our daily soundtrack. I genuinely think I've lost some hearing since I've been teaching in Vietnamese public schools too where I've had to put up with screaming, yelling kids every day. On top of this, it seems culturally acceptable here in Vietnam to talk over other people, to converse in a ridiculously loud voice and to shout someone's name loudly followed by the word: Oi! to get their attention. So, teaching kids not to interrupt each other and be quiet when others are speaking goes completely against their cultural grain.
Sickness, pollution and lack of green space
I've never been as constantly sick in my life as I have been since we moved to Hanoi. This is mostly due to working in schools where colds and viruses are in constant circulation; I've lost count of the amount of sore throats, blocked noses and sinus issues I've had over the past eight months, not to mention the nasty 24-hour stomach bug I picked up right before the TET holiday. The high levels of pollution in Hanoi exacerbate illnesses and drag them out too; one hacking cough I was suffering from took over a month to clear and got noticeably worse every time I had to venture outside the flat.
In short, neither Andrew nor I have felt very well or healthy since moving to Hanoi. Other than walking from place to place, exercising outdoors is out of the question because of the smog we're always breathing in and we wear face masks every time we ride our bike. London also has pollution issues but we never felt the effects much because we lived out in the suburbs and had access to a lot of local parks and green spaces; something that's seriously lacking here in Hanoi.
What do you love and hate about the place you live in?