26 Apr

New Zealand Travel Costs for One Month

We kicked off our travel adventure with a month-long trip around New Zealand. Here's a breakdown of our New Zealand travel costs,  from food and accommodation to activities and transport. 

Looking for more travel cost breakdowns? Here are a few you might like:

Cost of travelling in Australia 
Indonesia travel costs
How much does it cost to travel in America?
Our Eastern Europe travel costs 
How much did 15 months of travel cost? 
New Zealand costs 2018 update
So, how much does a trip to New Zealand cost in 2018? The sections further down in the article detail all the food, accommodation, transport and activity costs for our 2013 trip to New Zealand, but here's a look at how prices have changed since then. In 2018, the same trip would have cost us around £120 more; based on our research:
Hostel costs in 2018 are similar to 2013 prices (according to Booking.com). To stay in the same places in 2018, it would cost us around £36 more than it did in 2013.
Car rental has gone up by about £80 but fuel prices have dropped by about 6.5 percent and the Interislander ferry is £10 cheaper in 2018 than it was in 2013.
For activities, the Abel Tasman skydive is about £30 less today than it was in 2013 and a Milford Sound cruise is £10 cheaper per person in 2018. The Rockboat and heli-hike have increased by around £30 per person though.
New Zealand travel activity/attraction costs
It can be incredibly expensive to travel New Zealand, especially if you decide to take advantage of all the exciting activities on offer like bungee jumping, skydiving, glacier hiking, jet boat riding and black water rafting. Even the gentler activities such as scenic flights, visiting the glowworm caves and thermal spas will chip away at your travel cash. Since the country is surrounded by water and islands there are also many tempting boat trips to spend money on.

Here's a list of the activities we decided to do while in New Zealand. We got ten percent discounts on some from visiting the World Travel Market in London and writing about our experiences. This saved us about £100 overall, not bad. Discounts on activities are pretty easy to come by once you get to New Zealand and shop around. Pick up an Arrival magazine from the airport and some leaflets from an iSite tourist centre to suss them out.  Don't forget that there are also plenty of free things to see and do in New Zealand. These include exploring cities, hiking or lying on a beach.
| | | |
| --- | --- | --- |
| Activity/Cost | Cost | Cost per   person |
| Rock Boat overnight cruise | £219 (this was a discounted price; normal cost is   £241) | £109.50 |
| Skydive with video and pictures | £513.25 (this was a discounted price; normal cost is   £546.50) | £256.63 |
| Helihike on Fox Glacier | £394 (this was a discounted price; normal cost is   £438) | £197 |
| Milford Sound Cruise | £152.50 | £76.25 |
| Scenic Flight | £44 | £22 |
| Wai-O-Tapu Thermal Wonderland | £32 | £16 |
| Waitomo Caves | £100 | £50 |
| Ferry to Rangitoto | £31 | £15.50 |
| Auckland Museum | £27.50 | £13.75 |
| Rewa's Village | £5.50 | £2.75 |
| Polynesian Spa | £27.50 | £13.75 |
| Total | £1,546.25 | £773.13 |
New Zealand travel accommodation costs
We mainly stayed in private hostel rooms with shared bathrooms which cost on average £30 per night (for two people). We found the majority of hostels were clean, quiet and well-situated. The best was Rainbow Lodge in Taupo where we had our own bathroom and use of the cleanest hostel kitchen we encountered in New Zealand. However, Planet Backpackers in Rotorua and Tairua Beach House were less desirable in terms of cleanliness. We even spotted a dead cockroach in a kitchen drawer in Tairua.
We also found three places through AirBnB, if you haven't used the site yet you can get a £25 discount using this code. In Tongariro we had a whole house to ourselves for only £25 per night and in Wellington we stayed in a shared house for £22 per night. One of the best places we stayed throughout our whole trip was in an outbuilding in Wendy and Patrick's back garden in Golden Bay. The room in Golden Bay itself was modest but we loved this couple, they were so welcoming. We spent an evening having dinner and chatting with them about our shared passion: travel. We also had an amazing time in Raglan, staying with friends of family in their rental apartment.
| | | | |
| --- | --- | --- | --- |
| Expense | Total | Per Person | Per day |
| Accommodation | £924 | £462 | £29 |
New Zealand food costs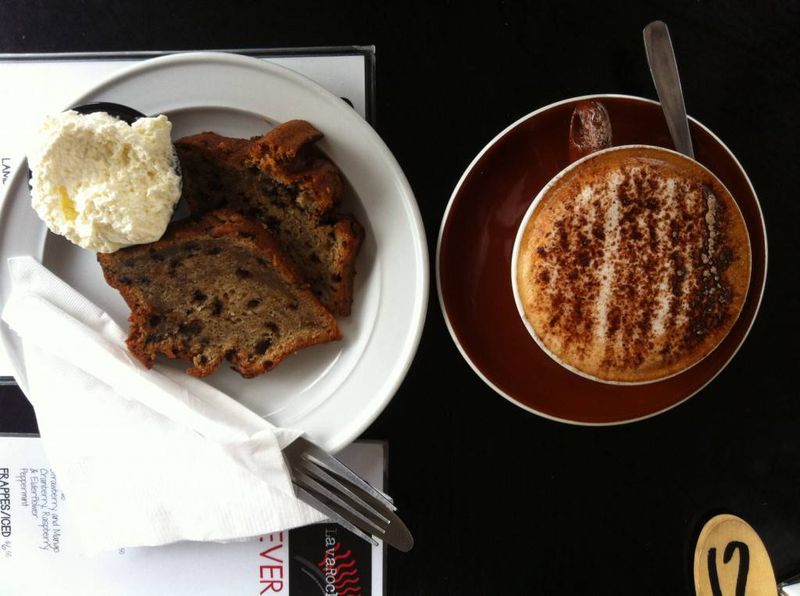 The general living costs in New Zealand are pretty high and groceries don't come cheap, particularly everyday staples like bread, milk and cheese. We only ate out three or four times while in New Zealand, mostly cheap meals like fish and chips. Occasionally we'd treat ourselves to coffee and cake in a cafe when it was on special offer. The rest of the time we cooked for ourselves. Typically we'd eat cereal, toast and eggs for breakfast, sandwiches and fruit for lunch and pasta or rice with vegetables for dinner. Alcohol is expensive in New Zealand. A pint of lager in a pub will cost around £5. We bought a whole crate (15) of beers for about £10 which we drank over the month and had a couple of beers out at a pub quiz night.
| | | | |
| --- | --- | --- | --- |
| Expense | Total | Per Person | Per day |
| Food | £512 | £256 | £16 |
New Zealand transport costs
We booked our flights from London to New Zealand about nine months beforehand which lowered the price significantly. We paid £1,082 for two people, which we included in our pre-trip costs. If you're planning a trip to New Zealand we think it's best to book a flight to Auckland and travel down through the North Island. Then use the Interislander ferry to cross over to the South and fly out of the country from Christchurch. This is the route we took and it allowed us to hit all the main hotspots. The only thing we regret is not having longer to explore the south island.
There are a couple of options for getting around in New Zealand, you can get a pass on one of the tourist buses, catch the train or even hitchhike. We rented a car for the month to have total freedom and this was the best decision we made. Some areas we visited were very rural and would have been difficult to access through public transport.
Having the car also meant that we could also move at our own pace, stopping off at look-out points, beaches and other spots whenever we liked. We drove around 2,200 miles across New Zealand, zig-zagging our way down the North Island and then catching the ferry across to the South where we did a quick nine-day loop down the west coast to Christchurch. Fuel cost, on average, 17 pence per mile which adds up if you're covering a lot of ground.
| | | | |
| --- | --- | --- | --- |
| Expense | Total | Per Person | Per day |
| Car   Hire | £370 | £190 | £11.50 |
| Fuel | £374 | £192 | £11.70 |
| Ferry   between islands | £152.70 | £76.35 | £4.77 |
| Total | £896.70 | £448.35 | £28 |
Total New Zealand travel costs for one month
So, how much did our trip to New Zealand cost? Before we left the UK we guessed that we'd spend roughly around £3,000 during our month in New Zealand. As you can see from our final costs, we spent about £1,000 more than that in total. Our biggest New Zealand travel expenditure was on activities, some of which we only decided to do while we were on the road, such as the scenic flight and Polynesian Spa.  We also added a few extra pounds to our total by opting for the skydiving video and picture packages. However, we're so glad we have these to remember our experience by.
All the activities we did were amazing and we don't regret spending money on any of them. We're pretty happy with how much we spent on food and accommodation too. The only way we could have reduced these costs would have been by eating unhealthily or sleeping in noisy dorm rooms, which we think would have ruined the trip for us.
Pin Me For Later!
| | | | |
| --- | --- | --- | --- |
| Expenses | Total | Per Person | Per day |
| Accommodation | £924 | £462 | £29 |
| Transport | £896.70 | £448.35 | £28 |
| Food | £512 | £256 | £16 |
| Entertainment | £1,546.25 | £772.50 | £48 |
| Miscellaneous | £47 | £23.50 | £1.50 |
| Total | £3,925.95 | £1,962.98 | £122.68 |
There's no getting around it, New Zealand is an expensive country to travel around. We don't regret a thing about our amazing month there though. Do you have any New Zealand travel costs to share? Let us know in the comments below.