31 Jul

Indonesia Travel Costs for Six Weeks

We were looking forward to getting to Asia after more than two months and over £7,000 spent in Australia and New Zealand. Before we arrived we had set ourselves a budget of about £30 per day for backpacking Indonesia (along with the rest of Asia – a little naïve no?). So, we were ready for our costs to dramatically drop from here-on-in but how much did it really cost to travel Indonesia?
Activity Costs for Indonesia
We slowed down quite a bit in Indonesia and our activity costs were reduced by a huge margin in comparison to the first two countries we visited. This was not only because it was a cheaper country to travel in but also because we became travel budget fanatics; trying to stick rigidly to spending £30 per day. We were planning on going as far as Komodo Island to see the Komodo dragons, but we waited too long to book any flights and so the prices went up so much that we decided against that trip. Nevertheless, we still did some exciting things; we visited Mount Bromo in time to see the 'sunrise', cycled around Bali and got chased out of the Monkey Forest in Ubud.
| | | |
| --- | --- | --- |
| Activity | Cost | Per Person |
| Mount Bromo Tour | £99.00 | £49.50 |
| Bali Eco Cycling Tour | £39.60 (We received 10% discount) Normal price £44 | £19.80 |
| Borobudur Trip | Car & Driver: £19.80, Borobudur entrance fee: £23.76, Pawan temple entrance fee £0.40 Total: £43.96 | £21.98 |
| Monkey Forest | £2.64 | £1.32 |
| Snorkelling and sunbeds (on the Gili Islands) | £10.23 | £5.11 |
| Three Massages (in Ubud) | £15.21 | £7.60 |
| Total | £210.64 | £105.32 |
Indonesia Accommodation Costs
We knew that Indonesia hotel prices would be much lower than in New Zealand and Australia, we were hoping to spend as little as £10 per day there. We spent a little over this even though we only stayed in a couple of comfortable places which had air-con, wifi, clean bathroom and kitchenette; the majority of places we stayed in were basic, often with fans and no hot water. As you would expect, the higher accommodation costs were in touristy Kuta, Bali, while we were actually able to spend very little in Jakarta because we booked through AirBnB. On the Gili Islands we kept costs down by not forking out for air-con or hot water, and managing on simple fan rooms like we did in Ubud; anything fancier seemed to double our budget.
| | | | |
| --- | --- | --- | --- |
| Expense | Total     | Per Person  | Per Day |
| Accommodation | £545.49 | £272.75 | £12.12 |
Food Costs in Indonesia
I'm certain that if you're not a fussy eater then you can eat really cheap in Indonesia. If, however, like us you like to wake up without a dodgy stomach or you don't eat meat, then you may want to spend a little more to lessen the risk of food poisoning.  There are many street vendors selling nasi goreng, mie goreng, ayam goreng (fried rice, fried noodles, fried chicken) amongst many other popular dishes but since our stomachs aren't used to that type of food, especially cooked in questionable conditions, we tended to eat in restaurants more and whenever possible cook our own food (not very often). We did receive free breakfasts in most of the accommodation we stayed in, consisting of mostly pancakes, jaffles, which are toasted sandwiches, or eggs on toast. We were disappointed to find that pretty much all the bread in Indonesia seemed to be sweet, whether it was filled with chocolate or cheese, it always had a sweet and buttery taste like brioche which made breakfast less enjoyable.
Over six and a half weeks we managed to keep our daily food costs down to under £10 (under £5 each!). This is pretty cheap, although it wasn't great for our health; on travel days we simply ate snack food (crisps, biscuits, crackers), we hardly managed to eat any fruit, skipped meals and spent more time in fast food restaurants than we have ever done in our lives!
| | | | |
| --- | --- | --- | --- |
| Expense | Total     | Per Person  | Per Day |
| Food | £447.18 | £223.59 | £9.94 |
Indonesia Transport Costs
Over six weeks in Indonesia we sped out of Jakarta and across Java to Bali, then Lombok and the Gili Islands before heading back to Bali, a total of roughly 1,000 miles. We actually only scratched the surface of this beast, there's a lot more to see in Indonesia if you have the time and budget. In the last two countries we visited our transport mainly revolved around our hire car; we weren't crazy enough to try and drive in Indonesia though! We didn't even want to get a scooter to zip around on, we knew this would be a bad idea and we would probably end up sprawled across the road or in a ditch somewhere since we've never driven one before and the roads are havoc (and the ditches here are really smelly sewers!).
So we used taxis which were really cheap as long as they were metered, we got plenty of overcrowded and uncomfortable boats between the Gili Islands for just a few pounds each, caught a few domestic Indonesia flights which worked out cheaper than boats or buses and caught shuttle buses, Damris and a couple of trains. Here's the breakdown of how much we spent on transport in Indonesia:
Expense
Total    
Per Person 
Per Day
Shuttle buses
Ubud to Kuta = £6.60 (Twice)
£3.30 each time
N/A
Total =£13.20
(x 2 = £6.60)
Flights 
Surabaya to Bali = £67.45
£33.72
N/A
Bali to Lombok Return = £53.59
£26.80
Total = £121.04
£60.52
Trains 
Jakarta to Yogyakarta £36.96
£18.48
N/A
Yogyakarta to Surabaya £15.84
£7.92
Total = £52.80
£26.40
Damri (Airport bus) 
Jakarta to Centre: £3.30
£1.65
N/A
Lombok to Senggigi £3.30
£1.65
Senggigi to Lombok £3.30
£1.65
Total: £9.90
£4.95
Taxi
Total = £107.59
£53.80
£1.20
Boats (Lombok & Gili Islands): 
Bus and boat to Gili Trawangan £7.36
£3.68
N/A
Gili Trawangan to Gili Meno £3.64
£1.82
Gili Meno to Gili Trawangan £2.64
£1.32
Gili Trawangan to Gili Air £3.04
£1.52
Gili Air to Gili Trawangan £3.30
£1.65
Gili Trawangan to Bangsal Harbour £1.32
£0.66
Total = £21.30
£10.65
Total:
£325.83
£162.92
£7.24
Miscellaneous Costs
We seemed to have a few extra miscellaneous costs for Indonesia, due to the fact that we went shopping for clothes and a few presents. We also spent money on laundry, toiletries and suncream which was more expensive on the Gili Islands, so make sure you stock up on that type of thing before you set off.
| | | |
| --- | --- | --- |
| Expense | Total     | Per Person  |
| Toiletries, medicine, postage: | £31.04 | £15.52 |
| Suncream | £16.17 | £8.09 |
| Laundry | £10.56 | £5.28 |
| Shopping (clothes, gifts): | £31.35  | £15.67 |
| Miscellaneous | £89.12 | £44.56 |
Total Indonesia Travel Costs For Six and a Half Weeks
From an original budget of £30 per day, we didn't do too badly; our mistake was trying to stick to it too rigidly causing us to eat unhealthily and sometimes not eat at all. In the future we need to gauge our costs when we arrive in a new country and then work out what our budget should be, not come up with a budget and try blindly to stick to it. Lesson learned. As you can see our daily cost of travelling in Indonesia for six and a half weeks was £36 for two people (£18 each!); we think that's pretty good but we won't be attempting such a rigid budget again.
Pin Me!
| | | | |
| --- | --- | --- | --- |
| Expense | Total | Per Person | Per Day |
| Accommodation | £545.49 | £272.75 | £12.12 |
| Food | £447.18 | £223.59 | £9.94 |
| Transport | £325.83 | £162.92 | £7.24 |
| Miscellaneous | £89.12 | £44.56 | £1.98 |
| Entertainment | £210.64 | £105.32 | £4.68 |
| Total For 45 days (six and a half weeks) | £1,618.26 | £809.13 | £36 |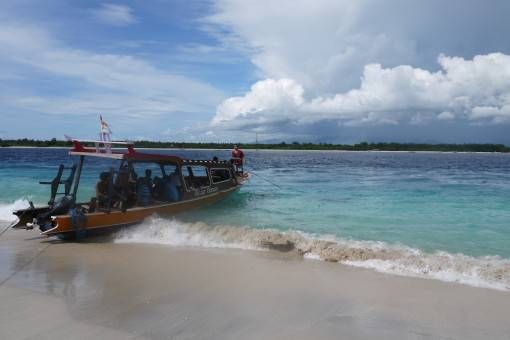 So, next up is an unscheduled stop in Malaysia, since this is a change of plan we are not certain exactly what our budget will be like, but we will test the waters and come up with a more appropriate one. We've heard and read great things about Malaysia and we're not entirely sure why we didn't consider it in our original plans – we're excited to see what it's like for ourselves!
We track all our costs using the fantastic Trail Wallet app. Here's what we spent in Australia and New Zealand.