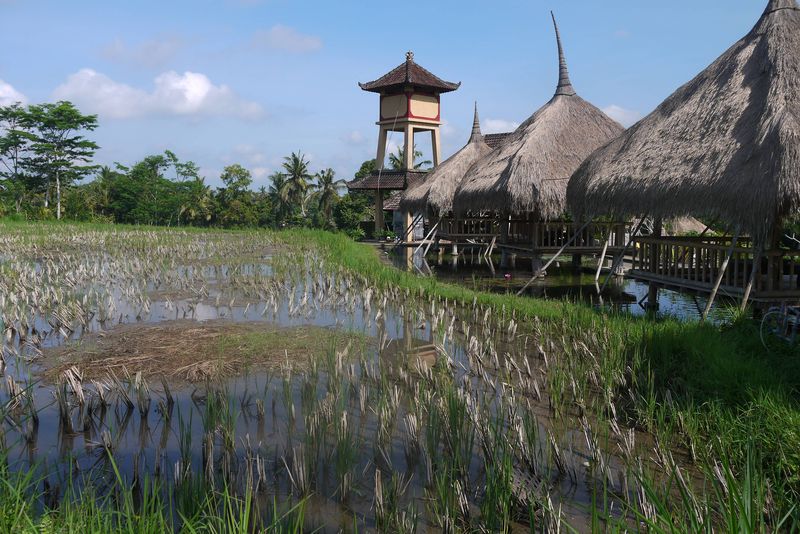 06 Jul

Our Ubud Highlights

Ubud became, without a doubt, our favourite place in Indonesia – a cool, leafy haven away from the strangeness of Java, the bars in Kuta and the fierce heat of the beaches in Lombok and the Gili islands. Overall, we had a pretty tough time in Indonesia; the six weeks we spent there were marked with struggles, tears, illness, frustration and plenty of soul searching. Ubud, however, became a kind of refuge for us and we look back on our time there as the most serene during our six-week stay – here are the highlights of our time in Ubud Bali.
The Campuhan Ridge Walk
It can be easy in Bali to get lured to the beautiful beaches and neglect to spend time exploring the countryside but Ubud is the perfect place to get a taste of the real Balinese landscape; all you have to do is take the Campuhan Ridge Walk. The trek lasts a couple of hours and takes you  through stunning rice terraces and small Balinese villages. We stopped in a café overlooking one of the paddies to enjoy refreshing lime juice and marvel at how the scene before us looked just like a perfect painting.
As a side note, if you plan to do this walk, leave at around six or seven in the morning when it's cooler – we left it until 10 and suffered in the heat. The walk from Ubud along the Campuhan Ridge is great, but coming back along the main roads can be a bit hairy, so consider walking back the way you came.
Shopping at Ubud Market
After only three months on the road we were already desperate to make some changes to our packing list. The extreme heat in Indonesia meant we needed to get rid of some of our thicker clothes and replace them with lightweight alternatives; Ubud market was the perfect place to do this. We spent a few hours browsing and bartering with the market-sellers and came away with three new tops and two pairs of trousers to replace old or lost ones – all for only £15.
Visiting the Bali Animal Welfare Association
One of the things we noticed almost straight away in Indonesia was the stray animals – in particular the hordes of skinny dogs. It's hard to come from a country like England where animals are (mostly) so well cared for and see animal neglect and cruelty.  However, we realise this is the reality in many parts of the world, including Asia, so we were interested to discover the Bali Animal Welfare Association during our trip to Ubud. We took a trip to their local shelter and were shown around by a member of staff. As an animal lover and an ex-volunteer for the Mayhew Animal Shelter in London, it was a really interesting and heartening experience.
Marvellous Massages
It was only during the last week of our stay in Indonesia that we finally got around to having a massage. I still have no idea why it took us so long; especially given that we were asked so often whether we'd like one as we walked around Bali. It was however, worth the wait. For only a few pounds we got a relaxing back, neck and shoulders massage; it was so good we went back twice more before we left the country. My back let out an audible crack each time, which obviously means I really needed massaging, right?
Ubud Restaurants
I have to confess, I'm not much of a foodie. I don't eat meat and am not a fan of spicy foods and things I don't like the look or smell of – I definitely won't eat a dish unless I know exactly what's in it. Back in the UK I survive by rotating the same three or four meals continuously and bringing all my own food to work with me. So, while Andrew is far more adventurous, I always knew that travelling would be a bit of a nightmare for me food-wise. I coped well in New Zealand and Australia as we could cook our own meals, but as soon as we hit Indonesia things changed drastically for the worse.
Suddenly we were in Jakarta and I was confronted by nothing but strange smells, unidentifiable plates of food and stacks of greasy-looking meat everywhere. Suffice to say that, during our week in Java we ate three times in Pizza Hut, visited Dunkin Donuts four times and lost count of the amount of Mcflurries we consumed. Normally we don't touch this stuff in the UK and were left feeling queasy and exhausted from our new diet; I was also becoming steadily more terrified that this would continue for the rest of our stay in Indonesia. Thankfully, things improved once we got to Bali and I was surprised to find that I actually began to enjoy the vegetarian food on offer in Ubud.
Getting Chased out of the Ubud Monkey Forest
I'd been so looking forward to the Monkey Forest in Ubud but as you can see from my previous account, we ended up having a pretty scary time there. Even though for most of our visit to the forest I was worried we'd get mugged or that Andrew would get bitten by a rabid monkey, it has become an experience we look back on with amusement. While I'd still recommend being extremely careful if you decide to visit the Monkey Forest, it's worth a look as you'll see many monkeys (usually nursing babies)  amongst the gangsters who  simply hang back and go about their business.
Pin Me For Later!