05 Nov

Halloween in America – Salem, Stephen King, haunted houses and ghost tours

"Oh, yeah, this is supposedly one of the most haunted houses in Maine," our Airbnb host told us, "It used to be a brothel, funeral parlour, and doctor's room…I've had paranormal groups here investigating." Andrew and I exchanged wary looks, trying to figure out whether our host was just messing with us or whether he really believed the house was haunted. Either way, as we listened to his tales of heavy footsteps in the halls, voices coming from the billiard room at night and a boy ghost trying to play with his dog, I knew the images popping into my head were going to keep me awake that night.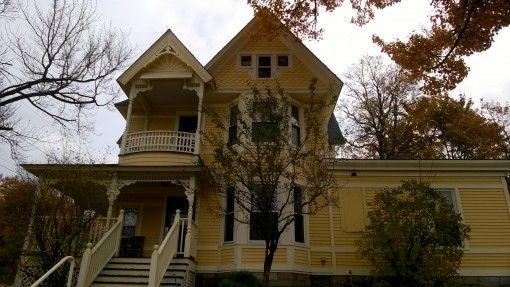 Before I go any further, I want to explain that while I don't believe in ghosts, the paranormal or the supernatural, I do have a vivid imagination which means I can easily scare myself to the point where I have nightmares and can't get up to go to the bathroom in the middle of the night. Despite this, a love of the horror genre runs in my family and for as long as I can remember I've devoured scary films, books and anything zombie related. I love to be terrified and I'm fascinated by the psychology of the horror genre, so much so that I wrote my dissertation at university about horror movies.
Given my love of all things horror, I was extremely excited to experience one of America's biggest holidays: Halloween. The fact that we'd inadvertedly booked ourselves into a spooky old house just a few days before the 31st October was an added bonus. From haunted history walks to visiting Salem, taking a Stephen King tour and getting scared out of my wits on a fright night at Fort Knox, here's how we celebrated Halloween, USA style.
Ghostport Festival
Halloween festivities kick-off early in America and we were surprised to see decorations pop up outside houses as early as September. At the beginning of October, we visited the annual Ghostport festival in Bucksport Maine, where we got our first taste of Halloween fever. Kids and adults alike donned costumes and headed out to take part in the festivities, which included a coffin race, costume parade, pumpkin carving competition and trunk-or-treating.
Dozens of stalls lined the waterfront with Halloween goodies on display and people launched pumpkins into the sea with a trebuchet. Later in the evening we sat in the town's cute, one-room cinema to watch a couple of short, independent horror films; we even got to chat with the directors afterwards, who are from Maine. The evening ended with a fireworks display over the water as we shivered in one of the most bitterly cold nights we've experienced in New England.
Fright at the Fort
Just over the water from Bucksport you'll find Fort Knox, which was built in the mid 1800s to protect against British forces. Every weekend through October Fright Nights are held at the fort; visitors are led through the old stone building in near darkness while volunteers dressed in scary costumes lurk around corners waiting to jump out and scare people.
My nerves were certainly tested as we made our way around the fort through narrow corridors lined with actors in period dress, pirate outfits and weirdly, huge bug costumes. Around every corner someone would be ready to leap out, utter a piercing scream, lurk sinisterly in a corner or worse, silently follow inches behind you. One of the scariest parts for me was the clown room – need I say more?
Stephen King Tour
It'll probably come as no surprise by now that I am a huge Stephen King fan. I got hooked on his books after reading The Stand when I was just 11 years old; the characters in that story are still so real to me and it remains one of my favourite books. King lives in Bangor, Maine, and many of his stories are set in this corner of the world; because of this I formed a vivid mental picture of New England over the years and dreamed of visiting.
So, when we were in Maine I couldn't pass up the chance to take the SK tour of Bangor. The tour is run by a local guy named Stu, a friend of King's who used to run a bookshop specialising in SK memorabilia. Stu is extremely passionate about King's books and shared many fascinating anecdotes about King and his life while he drove us around town in a cool van with a picture of Pennywise the clown from IT on the side.
Bangor features most heavily as the fictional town Derry from IT and we got to see many of the settings from this book, including the Barrens where the children play and the street where Georgie has his nasty encounter with Pennywise. Stu took us to locations from other stories and told us about the amazing amount of charity work King and his wife do for Bangor, which has included building a baseball pitch and swimming pool, a children's wing at the hospital and rebuilding the roof of the library after a fire. One of the highlights of the tour was stopping outside King's home and posing by his fence, which is decorated with bats, spiderwebs and dragons.
Salem Haunted Happenings
Visiting Salem Massachusetts, where a tragic episode of mass hysteria saw 20 people executed for crimes of witchcraft in the 1600s, was high on my list of things to do in New England. The infamous Salem Witch Trials occurred after two young girls began having fits and a local doctor proclaimed they were bewitched. Three women were initially arrested for bewitching the girls, but as the hysteria spread, over 150 people were subsequently accused of witchcraft before the town came to its senses.
We visited Salem the day before Halloween, during the Haunted Happenings festival which takes place there throughout October. The town was full of people, many dressed as witches; there were carnivals and food stalls, psychic fares, dozens of walking tours and long queues for tacky-looking witch-themed attractions. It all seemed a bit too flippant and carnivalesque for our liking but we spent a few hours walking around the town, visiting the Witch Trial Memorial and burial ground and one museum which had a bare-bones history of the town.
In our opinion, unless we somehow missed it, Salem seems to be lacking a museum which documents and examines the Witch Trials in a serious light. There's also much more to Salem's history than witches; it has an important maritime history and was once one of the biggest towns in America.
Wicked Walking Tours, Portland
We were much more impressed with our Wicked Walking tour of Portland, which tells the history of the city through a series of tongue-in-cheek ghost stories. Our tour guide Gordon, led us on an hour-long walk through the Old Port area, entertaining us with stories of murderous pirates and ghost ships, great fires and battles fought with the British and Native Americans.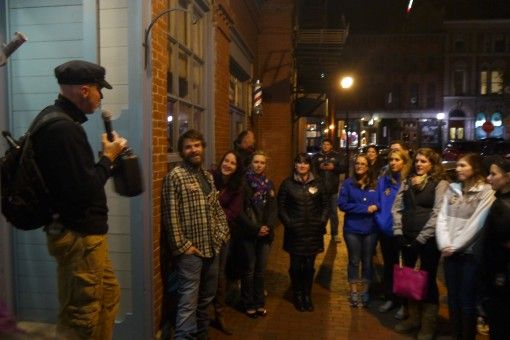 It was atmospheric to walk along Portland's cobbled streets at night, letting our imaginations run wild; there was also a chance for the tour group to share their own ghost stories and encounters with the rest of the group, which was fun. Overall, the tour was more entertaining than scary, unlike a similar tour we took in Scotland, which took us down into Edinburgh's underground crypts and gave us a truly terrifying scare at the end.
Halloween in America
We spent Halloween itself in Portland, Maine, where festivities included numerous costume balls and parties, activities for kids at the Children's museum and lots of decorations. We saw a group of zombies perform the Thriller dance in Monument Square, which brought back memories of the 2.8 Hours Later zombie chase game we played in London, we even went to zombie school so we could become volunteer zombies!
On Halloween night we watched the annual costume parade through the city's west end. We were so impressed with the dedication people showed for celebrating the holiday; kids and adults alike wore elaborate costumes, from traditional witches, ghosts, zombies and vampires to superheroes, dinosaurs, animal onesies and more obscure offerings like an astronaut and a little girl dressed as a grandma.
Houses were decorated with pumpkins, statues and banners, people sat on porches with bowls full of candy waiting to give out to the hordes of trick-or-treaters which filled the street. One house had a gravestone scene in the garden, complete with lights, sound effects and a smoke machine. We finally took refuge from the bitterly cold Halloween night by retreating to our very own haunted home with a handful of American candy bars to watch a good old fashioned horror film.
Pin Me For Later!
Happy Halloween everyone! *Update: you can read our complete 2016 New England Fall Foliage Guide here. This includes tips on where and when to see the best foliage, what to eat, which festivals to visit, how much our fall trip to New England cost and our favourite destinations in New England.*