13 Feb

Where to Eat in Barcelona: La Boqueria Market

Barcelona is without a doubt the best Spanish city we've visited so far, a cultural hotspot crammed with modernist architecture, museums, monuments, beaches and historic streets. We were keen to sample as much tasty Spanish food as we could during our Barcelona trip without breaking our daily budget and we found the ideal place to get a cheap, authentic taste of the city: La Boqueria Market.
Where to Eat in Barcelona
There are literally thousands of restaurants in Barcelona so choosing somewhere to eat can be overwhelming. As a vegetarian and fussy eater, I haven't found Spain the easiest place to eat given that there are so many meat-based dishes, but Barcelona has a great array of veggie options. One afternoon whilst wandering around the gothic quarter of the city we stumbled across Vegetalia, which serves good quality vegetarian and vegan dishes. We thought that their brunch plate, which cost €9.90 per person, was great value for money, packed with muesli, salad, fruit, bread, fajitas and strudel.
Our favourite places to eat when we travel are often food markets as they're usually cheaper and we can pick and choose different dishes to suit my veggie needs. We've visited some really great food markets around the world, including the Sunday night market in Chiang Mai, Shillin Market in Taipei, Borough Market in London and Reading Terminal Market in Philadelphia. Given our love of markets we were excited to check out the famous Boqueria in Barcelona, which is conveniently located right on the Ramblas.
La Boqueria Market Opening Times
You can find La Boqueria at La Rambla 91. The market  is open Monday to Saturday 8am – 8.30pm and is closed on Sundays. We found it best to visit in the morning before the crowds gathered, but you can also pick up some cheap reduced bargains at the end of the day.
La Boqueria Market in Pictures
La Boqueria has been doing business since 1836 and is formally known as Saint Joseph's Market, after a convent that used to stand on that spot. The market is now referred to as La Boqueria because of its high number of stalls selling meat, particularly goat, which is called 'boc' in Spanish. La Boqueria is a maze of more than 300 stalls selling everything from fruit and veg, spices and nuts, to meat and fish, cheese and bread and sweets and cakes. There are also a number of bars and restaurants in the market where you can pull up a stool and grab some food or a beer; Pinotxo and Portic Boqueria are popular options.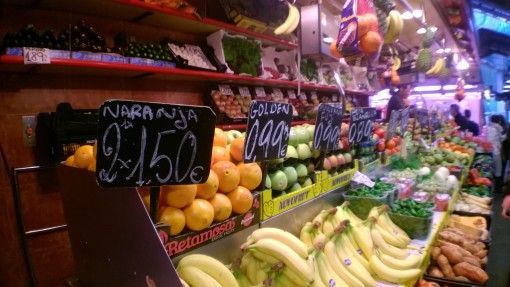 Whether you want to shop, eat or simply browse and take photos, La Boqueria is a great place to spend a few hours in Barcelona. We visited the market a handful of times during our trip and found it best in the morning, before the lunch crowds arrived and the market became choked with human traffic. La Boqueria felt very much like one of my favourite London spots, Borough Market, and I later found out that these two markets are actually formally twinned!
We spent hours wandering around La Boqueria taking photos of the colourful stalls and sampling some of the goods on offer. We also found we could buy a very cheap lunch from the market; one sunny afternoon we bought a big salad, fruit bowl, several savoury pies and a fruit smoothie for just €11. We took our treats down to the Citadella Park for a picnic, joining hundreds of other locals and tourists enjoying the spring-like weather.
Have you been to La Boqueria? What's your favourite food market in the world?
Pin Me!