12 Oct

Our top 10 house sitting tips

Want to save money on accommodation while you travel and spend time with cute pets? Then house sitting is the perfect solution. I'm writing this post from a spectacular farm house in rural Portugal where we're currently looking after dogs and pigs. Over the last three years we've also house sat in a lavish Spanish villa and all over London, which has saved us thousands of pounds in accommodation and satisfied our pet cravings. So, how do we land all these great opportunities? Here are our top house sitting tips.
*You can read all about our individual house sitting experiences in these posts:
1) Join housesitting websites
First things first, sign up to house sitting websites. Trusted Housesitters is by far the biggest website out there and has opportunities around the world from Europe to Australia, New Zealand, the USA and Canada. We've personally had great success with the site and have completed eight sits with them to date. Other sites to try include: MindMyHouse, HouseCarers, Nomador and Housesit Match. All of these sites charge an annual fee to join, the Trusted House sitters fee is $119.
2) Get some experience with animals
Most house sits involve looking after pets, so one of our top house sitting tips is to gain experience caring for animals. In your profile, talk about why you love pets (you really should if you're applying for a pet sit) and provide details of animals you've looked after and any pets you've had. If you don't have any experience with animals, consider volunteering or dog walking for a local animal shelter. In our profile, we mention the fact that we've volunteered with animal shelters in the past.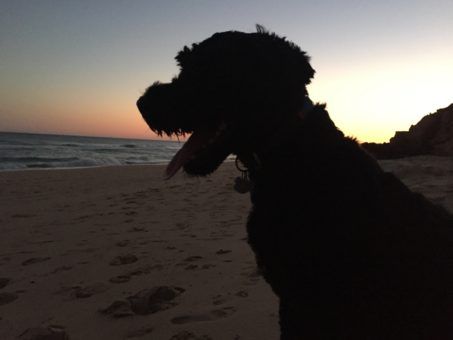 3) Get references
We didn't have any experience when we set up our house sitting profile, so we asked friends and colleagues to give us some personal references to get us started. Ask a few friends, family or colleagues to write a couple of sentences mentioning that you're reliable, honest and trustworthy.
4) Write a killer profile
Make sure you write a personalised profile that shows off your skills and personality and add photos of yourself, included some of you with pets. Home owners like to get a feel for who you are as a person so keep it simple and informal. You can take a look at our profile here for ideas, but we emphasise the following points:
We have a nomadic lifestyle so we're flexible on house sitting dates and locations.
We work from home so we can keep a constant eye on pets and properties.
We have successfully nearly 10 house sits in the past.
We love animals and have looked after cats, dogs and pigs.
We've had our own pets in the past and volunteered at animal shelters.
5) Make a video
One of the best house sitting tips we received when we were building our profile was to add a video of ourselves. Yes, it was embarrassing, but it really helped us land our first house sit. All you have to do is sit in front of the camera for a minute or two, talking about who you are, why you want to house sit and what experience you have.
6) Get a police check
Getting a police check can boost your chances of landing a house sit. We happened to have one because we've taught abroad and we advertise this on our profile. It's worth noting though that none of the people we've sat for have asked to see the checks, so it's not usually a deal breaker. If you're from the UK, you can order a basic check from Disclosure Scotland for £25.
7) House sitting tips – start in your local area
If you haven't house sat before, start small by applying for sits in your local area or in a less competitive place to build up some experience and positive reviews.
8) Be persistent and flexible
You'll have much more chance of finding a house sit if you're flexible with dates and locations, which is great if you're a traveller looking for house sitting abroad. When you first start you may have to send out many applications before you get a sit, especially if you're applying for popular areas like London. Be prepared for some rejections and persist. Sign up for email alerts for new sits (you can do this by area) and apply as soon as one is posted.
9) Offer to do an interview
When we apply for a house sit we always offer to chat with the home owners on Skype or over the phone, if we're in the area we'll also suggest meeting up to discuss the sit. This helps both you and the home owner decide whether you're a good fit for the placement. In most cases, we also arrive at the house sit a few hours or the night before to get used to the pets and their routine, the house and the local area.
10) Be a model house sitter
Once you do get offered a house sit, make sure you do a stellar job and look after the house and pets as if they were your own, which will earn you great reviews. Here are some things we always do when we house sit:
We arrive before the owner leaves to meet the pets and learn about the house.
Send regular updates to the owners while they're away with pictures of their pets to put their mind at ease.
Ask if we want to have visitors over, most people are fine with this as long as you're not planning a party!
Stick to the pets' regular routine as much as possible and give them plenty of company and reassurance.
Thoroughly clean the property before the owner returns and wash used towels and bed sheets.
Buy some basic groceries for their return such as bread, milk and butter, sometimes we even bake them a cake to say welcome home.
Pin Me For Later!
Do you have questions about landing a house sit or additional house sitting tips? Let us know in the comments below.