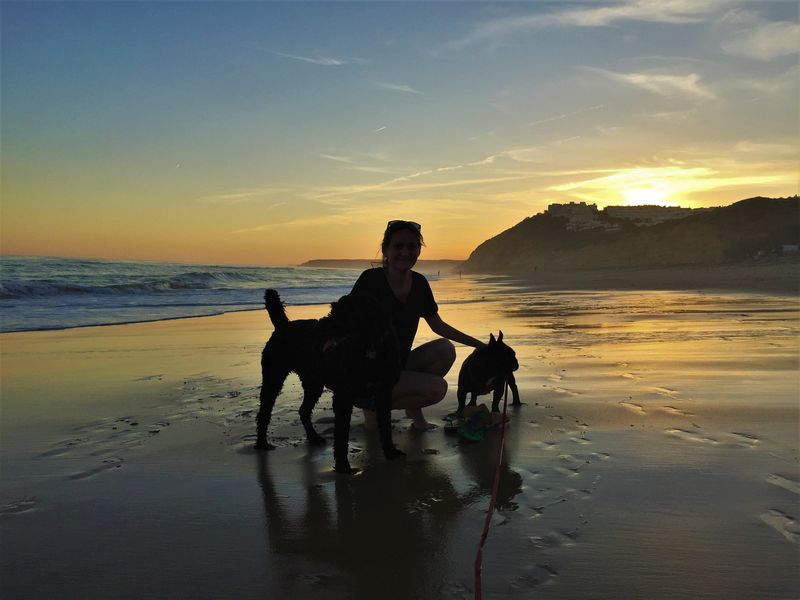 19 Oct

House Sitting Portugal – Lagos and life in the Algarve

There was a real treat waiting for us at the end of our 2,080-mile road trip to Portugal, a house sit to rival all others in the sun-kissed Algarve. From peaceful afternoons working on the veranda and sunset dog walks on the beach to chasing down runaway pigs, this is what our house-sitting Portugal adventure was like.
House sitting Portugal
One of the things I love about house sitting, aside from the free accommodation and complimentary pets, is being able to temporarily step into someone else's life. Every time we house sit we get to test out all these alternate realities and learn something about what kind of life (and dog) we want to have in the future. What I loved about this house sit in particular was the quiet routine of rural life.
Every morning we woke to reliably sunny, often cloudless blue skies. After breakfast, our canine companions Sjef the French Bulldog and Roef, a bouncy Portuguese waterdog, would follow us outside. The pigs Spekkie and Wiefie would be waiting for us to let them out and together, we'd set off on a morning patrol of the 30,000 square-metre property. Along the way, the pigs would stop to forage beneath orange and fig trees.
Days were spent working on the veranda of the house, which the owners have done a stunning job renovating. They've even converted a barn into a cottage that they rent out on Airbnb. Whilst we worked the pigs snuffled around in the fields or wallowed in a mud bath, while the dogs lounged in the sun. We cooked healthy meals, got our vegan diet back on track and generally luxuriated in the peaceful rural surroundings.

That was, until the afternoon when Spekkie did a disappearing act. A less-than-happy neighbour paid us a visit claiming a pig had been in her field. We promptly rushed down there to search for Spekkie, only to find the piles of dirt he'd left behind, so we began an hour-long frantic search for the runaway pig. Just as we were starting to fear that Spekkie had wandered off for good, we circled back around to the house where the contrary pig was nonchalantly slurping water from the trough. The trials of house sitting!
House sitting in Portugal and exploring Lagos
After dinner, in the cool of early evening, we'd pile the dogs into the car and speed off to a nearby beach. We'd find these perfect, sandy coves bordered by jagged cliffs and wander their length, watching the dogs race across the sand. The sea was cold and crashing, surfers skating across the waves until the sun started to set in red and orange hues.
This is our first time in Portugal and so far, the country has left a strong impression on us. Our house sit was located just outside of Lagos, in proximity to dozens of dramatic stretches of coastline and acres of golden sand. Although we're not huge beach fans, we've been won over by the clean, peaceful spots on the Algarve.
The countryside surrounding Lagos is dotted with tiny Portuguese villages that have traditional taverns and white-washed houses. One afternoon we drove out to the Barragem da Bravura, a huge dam, where the dogs enjoyed a dip as we wandered along forested trails.
We were feeling quite at home by the time our sit came to an end. It's always sad when you have to say goodbye to animals you've come to care for, but we drove away from Lagos with a seed of possibility tucked away in our minds. Who knows, one day, perhaps we could return to live a quiet life on the Algarve, this time with our own menagerie of animals?
Pin Me For Later!
Housesitting Portugal – do you want to try it?
Are you looking for house sitting opportunities? We found our house sitting Portugal assignment on Trusted Housesitters, you can find out more about our experiences home and pet sitting around the world in these articles:
Have you ever tried pet sitting Portugal or anywhere else around the world?