06 Jun

How much does a trip to California cost?

Yosemite, La La Land, the Golden Gate Bridge – our California adventure was packed with iconic sights. During the 18-day trip we travelled from LA to Santa Barbara, San Francisco, Yosemite, Kings Canyon and San Diego. Along the way, we walked among the world's largest trees, rode rollercoasters, visited beaches and ate delicious vegan food. So, how much does a trip to California cost? Here's a breakdown of everything we spent including food, transport, accommodation and activities.
Planning to visit more of the USA? Read about how much our three-month east coast trip cost here. During that visit, we toured New England to see the fall foliage and visited New York City, Philadelphia and Washington DC. Looking for more travel cost posts? Here are a few you might like:
We took our California trip in June 2018, flying into LA from Lima in Peru and moving on to Oregon at the end. Note that I haven't included these flight costs in the breakdown. Our trip lasted 18 days and we travelled with a friend from the UK, so some of our costs are divided by three people, I've indicated this in the breakdowns below.

Price of accommodation in California
California hotel prices turned out to be pretty expensive and as on previous trips to Florida and New England, we found that Airbnb was the cheapest option. Although there are some ethical issues with the site, we try to only rent spare rooms in people's homes rather than whole apartments these days.
Airbnb California prices varied, our cheapest stay was £29 per night in LA and our most expensive was £57 per night in Santa Barbara. Our favourite was an RV in North Fork, which we split the cost of with our friend Jo.  If you haven't already signed up to Airbnb, you can get £25 off your first stay by using our discount code.
| | | | |
| --- | --- | --- | --- |
| Expense | Total (two people) | Per Person | Per Day |
| Accommodation | £686 | £343 | £38.11 |
If you prefer staying in hotels, we normally look for deals on Agoda or Booking.com.
California food costs
We absolutely loved the vegan food in California! Coming from meat-heavy South America, we were astounded by the range on offer. We enjoyed incredible pancakes, mac and cheese and our favourite plant-based burgers at Veganburg in San Francisco. The cost of eating out in California can be expensive, so we tried to limit restaurant visits. As an example, we spent £45 having dinner at SunCafe in LA, while brunch at Saturn Cafe in Berkeley cost £18.85 and lunch at Donna Jean in San Diego came to £25.37.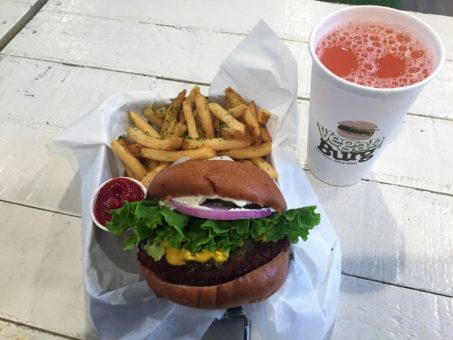 As usual when we travel, we try to keep costs down by shopping at supermarkets and cooking meals at our Airbnbs. On this trip we found food prices in California to be most expensive when we were getting takeaway from WholeFoods and buying special vegan goods like delicious Kitehill vegan cheese and tofurky sausages to BBQ. We did some cheaper shops at Trader Joe's though and Walmart was great for low-cost staples.
Typically, we'd eat cereal for breakfast, bagels and fruit for lunch and quick dinners like pasta, salads and BBQs when we had the facilities. It's worth noting that food portions in the USA are typically large and you can save money by sharing dishes or just ordering appetizers. With the exception of a couple of beers, we didn't really drink any alcohol on this trip, which kept our costs down.
| | | | |
| --- | --- | --- | --- |
| Expense | Total (two people) | Per Person | Per Day |
| Food | £330 | £165 | £18.33 |
Transport costs California
The easiest way to get around America is to drive, which allows you to stop off wherever you like and build a flexible itinerary. The cost to rent a car in California is cheapest if you pick up and drop off the vehicle in the same place. We rented a car through SixT for the majority of our trip, apart from in LA, where we used the metro. In San Francisco, we stayed in nearby Oakland and used the BART to travel into the city. We also used Uber a few times and saved money with the Uber Pool option (you can get £5 off your first Uber ride by using this link, if you don't already have the app).
Our hire car cost £338 for 15 days and we spent a further £280 on fuel, parking and tolls. This was split between three people, so I've deducted the £240 our friend paid. Although we initially hired a smaller car, we were upgraded to Jeep Cherokee, which Andrew loved driving. However, it was an absolute gas guzzler and cost us so much extra in fuel, £12 more per day than the modest Toyota Yaris that we rented on our east coast trip.
As a side-note, on our next USA trip to Yellowstone we're considering renting a more expensive RV but this will save us money on accommodation if you use free campgrounds in the US. Here's a breakdown of our transport costs, again, note that we haven't included flights to California, as these will vary depending on where you're travelling to and from.
| | | | |
| --- | --- | --- | --- |
| Expense | Total | Per Person | Per Day |
| Car hire (15 days) | £338 | £169 | £22.53 |
| Fuel (15 days) | £240 | £120 | £16 |
| Tolls and bridges (15 days) | £10.25 | £5.12 | £0.68 |
| Parking (15 days) | £19.50 | £9.75 | £1.30 |
| Bus, metro, BART (7 days) | £24 | £12 | £3.42 (7 days) |
| Uber (8 trips) | £63 | £31.50 | £7.88 (8 trips) |
| Total | £694.75 | £347.40 | £38.60 |
| *Final total | £454.75 | £227.38 | £25.26 |
*Minus £240, our friend's share of the car hire and running costs.
Entertainment and activities
The great thing about the USA is that there's plenty of free activities to keep you busy. In California, we stopped off at beaches, wandered around the cities and visited forests and lakes. It's very affordable to visit the national parks like Yosemite and Kings Canyon/Sequoia and you'll pay a flat weekly fee of $35 per car. We really wanted to go to Alcatraz but missed out because the tickets sell out months in advance, so book ahead if you want to visit.
More expensive California attraction prices include theme parks and we splashed out on a pricey day at Universal Studios, which cost £85 per person. It was well worth it though as we had so much fun riding rollercoasters, taking a studio lot tour and watching the special effects shows. Cheaper California attractions included taking a harbour boat trip and visiting the Coit Tower in San Francisco.

| | | |
| --- | --- | --- |
| Expense | Total (two people) | Per Person |
| Universal Studios | £170 | £85 |
| San Fran boat trip | £21.75 | £10.88 |
| Muir Woods | £23 | £11.50 |
| Coit Tower | £11.60 | £5.80 |
| Yosemite pass | £27 | £13.50 |
| Sequoia/Kings Canyon | £27 | £13.50 |
| Total | £280.35 | £140.18 |
Miscellaneous California costs
 As usual, we had some miscellaneous costs on our California trip, which mainly included souvenirs and gifts.
| | | | |
| --- | --- | --- | --- |
| Expense | Total (two people) | Per Person | Per Day |
| Miscellaneous | £55 | £27.50 | £3 |

How much does a trip to California cost in total?
If you've been wondering how much would a trip to California cost, here's our total price breakdown for 18 nights. California is one of the biggest US states and we did move around at a hectic pace, so this increased our costs, as did our Universal Studios visit. Fortunately, we saved some money by travelling with a friend and tried to keep our food costs down by eating from supermarkets as much as possible. Here's the breakdown, note that the final total includes a deduction of £240 for our friend's share of the car hire and running costs.
| | | | |
| --- | --- | --- | --- |
| Expense | Total (two people) | Per Person | Per Day |
| Accommodation | £686 | £343 | £38.11 |
| Food | £330 | £165 | £18.33 |
| Transport | £694.75 | £347.40 | £38.60 |
| Entertainment | £280.35 | £140.18 | £15.58 |
| Miscellaneous | £55 | £27.50 | £3 |
| Total | £2,046.10 | £1,023.25 | £113.67 |
| *Final Total | £1,806.10 | £903.85 | £100.34 |
* Minus £240, our friend's share of the car hire and running costs.
Our California trip did turn out to be more expensive than our 2016 trip to the east coast, which only cost us £80.38 per day, compared to California's £100.34 per day. Why was it so much more expensive? It mainly comes down to transport costs. Our car hire cost £7 more per day in California than on the east coast but thanks to the guzzling Jeep Cherokee we were upgraded to, our fuel consumption really rocketed, costing £12 extra per day.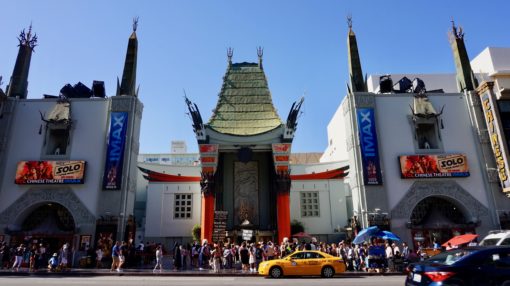 We also found accommodation slightly more expensive in California, costing an extra £7 more per day, our Universal Studios trip also bumped up our activity prices. We did spend less this time on food though, just £18.33 compared to £23.76 on the east coast. This could be down to eating a vegan, rather than vegetarian, diet this time and eating out less.

Bonus: Oregon travel costs
Taking a road trip up the west coast of the USA? After visiting California, we flew up to Oregon for what was supposed to be a five-week house sit. Unfortunately, the hosts cancelled last-minute, so we had to scramble to make other plans. Since Oregon is such an expensive summer destination, we ended up bringing our flights back to the UK forward to shorten the trip. However, we did manage to find a replacement week-long housesit in Portland, which gave us some free accommodation. We always use Trusted Housesitters to find sits, it's a great way to save money and look after cute pets.
Here's a look at what we spent otherwise (not including our house sit) over 11 days in Oregon. This included renting a car, staying at an Airbnb in Portland and a caravan near Bend. Accommodation prices were more expensive than California but we ended up falling in love with Oregon, visiting Smith Rock and Crater Lake National Parks and taking scenic drives along the coast, to Mount Hood and along the Cascade Lakes Scenic Byway. We were really trying to reduce our travel costs at this time, so we ate in a lot and stuck to mainly free activities.
We found cheaper car rental in Oregon for seven days, £126 for a Ford Fiesta, and we spent just £54 on gas which was much more affordable. There were also a few extra costs for parking, Ubers, buses and trains. Here's a total breakdown of how much our short Oregon trip cost:
| | | | |
| --- | --- | --- | --- |
| Expense | Total (two people) | Per Person | Per Day |
| Accommodation | £530 | £265 | £48 |
| Food | £156 | £78 | £14 |
| Transport | £233.65 | £116.83 | £21.24 |
| Entertainment | £4 | £2 | £0.40 |
| Miscellaneous | £19 | £9.50 | £1.72 |
| Total | £942.65 | £471.33 | £85.70 |
Do you have any questions about how much a trip to California costs or travelling the USA? Let us know in the comments below.