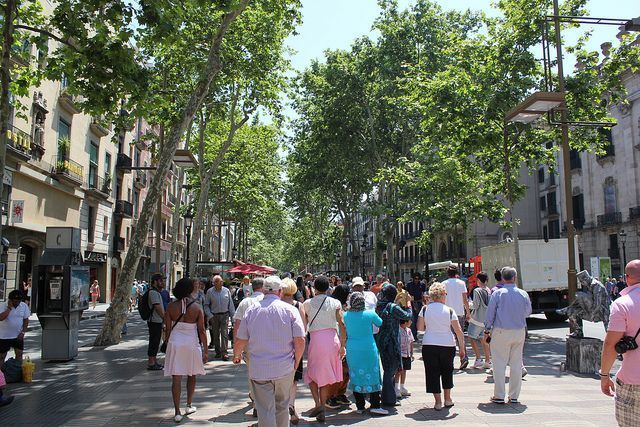 01 Jan

We're Moving to Spain! 2016 Travel Plans

While I have no idea how 2016 will pan out, I can now announce that on the 24th January, we're moving to Spain! Sometimes, this thought sends me into a panic and the future feels like one infinite black hole of uncertainty. At other times though, I remember how embracing fear and change has led to the most amazing experiences of my life; from quitting my job in London to travelling in Asia and teaching in Hanoi.
Yes, we're Moving to Spain!
So, why Spain?  I honestly can't pinpoint the moment when we decided on Spain. We always thought we'd explore South America after leaving Asia and for a long time, Andrew was keen to move to Mexico to teach and improve his Spanish. However, at some point during those turbulent, incredible months in Hanoi, we started planning an autumn road-trip through the USA instead and I admitted that I didn't want to go to Mexico – at least not yet.
Quite honestly, after spending a couple of years on the other side of the world, I wanted to be closer to the UK. I craved European culture and food and I liked the idea of being only a two-hour flight away from my family. So Spain emerged as an obvious alternative, a country close to the UK, where Andrew could practise his Spanish, a place with plenty of English teaching jobs as well as big cities and beautiful beaches.
Our 2016 Plans
The flights to Spain are booked, but we have few concrete plans for 2016. We did learn a lot from our journey in 2015 though;  we want to strike a balance between work and travel, between living in one country for a portion of the year, visiting home and exploring new parts of the world. With these lessons in mind, here's how our 2016 plans look at the moment:
Travelling in Spain
We fly to Alicante on the 24th January. Andrew managed to find an insanely cheap deal on car hire, just £55 for a month, so we'll be taking a road trip to get a feel for the country. We plan to rent cheap accommodation through Airbnb (a service we've grown to love) and perhaps housesit while we visit a few key cities such as Barcelona, Valencia and Bilbao. On February the 21st we drop the car back to Alicante and bus over to Madrid. If you've never used Airbnb before, you can get £20 free credit to spend on the site if you sign up using this link.
House sitting in 2016
We've always been intrigued by house sitting but so far we've only  managed to complete three short sits during summer visits to London. Our house sitting experiences so far have been great; we've saved money on accommodation, enjoyed some home comforts and gotten to look after some cute cats and dogs. We're hoping house sitting will become a bigger part of our travel style in 2016, as we try to establish a balance between slow travel and work.
We have two confirmed house sits so far; three-weeks in London at the beginning of January where we'll be looking after the same cat we cared for in the summer and a week-long housesit in rural Spain in February.
Working in 2016
Although we still have a decent amount of travel savings, rather than run down our money completely before we settle somewhere and work, we're taking a new approach. In 2016 we want to focus on covering our living costs and perhaps adding to our savings through a few different avenues, including earning small amounts from online and freelance work, English teaching and exam marking for Andrew; I would also like to explore other work and volunteer placements.
Teaching English will remain one of our key income streams but rather than committing to an entire academic year and making teaching our full-time focus, as we did in Vietnam, we hope to find more casual, flexible work with language schools and private clients in Spain.
Renting an Apartment in Madrid
Having a temporary home base was one of the things we loved most about living in Hanoi, so we're keen to rent an apartment again in a new city – from what we've heard, Madrid sounds like the ideal place. There are plenty of work options there, living costs are fairly low and it's an exciting place to be; friends and family can visit easily and we can fly back to the UK when we want to.
Family Holidays
If all goes well, our loose plan is to stay in Madrid until mid July. From there we'll make our way to Italy for a holiday with Andrew's family, who are renting a house in Perugia, we'll tag on a visit to Florence before the holiday starts. At the beginning of August we'll head back to Spain for a holiday with my family on the coast, probably in Malaga.
Travelling Europe in 2016
Despite having lived in the UK almost all of our lives, we really haven't seen that much of Europe, so we're excited to explore while we're living in Spain. I don't know when or how yet, but we'd love to road trip around Eastern Europe and visit some key countries we've yet to set foot in, like Germany and Portugal. Come September, we might even decide to walk the Camino de Santiago!
Everything is subject to change at the moment, but one of my key goals for 2016 is to just take my chances and see what opportunities arise.
Happy New Year Everyone! What are your plans for 2016?