15 Jul

Our New England Road Trip Itinerary

To me, the start of a new year always begins with autumn, my favourite season. I suppose that's because for most of my life, September has brought with it change, a new academic year and the chance to start afresh with a batch of brand new notebooks and pens. I love the feel of autumn's approach as the long summer evenings start to draw in and an Arctic nip taints the morning air, bringing with it the promise of orange-tinted leaves, silver frosts and bonfire night.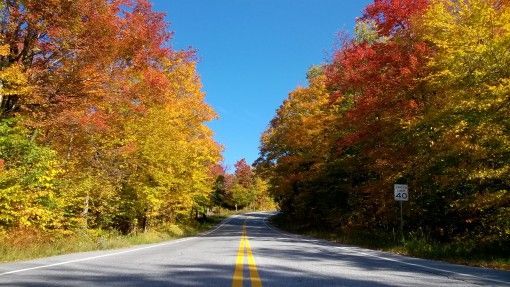 *Update: you can read our complete 2016 New England Fall Foliage Guide here. This includes tips on where and when to see the best foliage, what to eat, which festivals to visit, how much our fall trip to New England cost and our favourite destinations in New England.*
For the last two years I have missed autumn; the routine cycling of the seasons has been erased by Asia's sunshine and humidity. Even living in Hanoi, where it got cold enough to wear a coat, the air was still strangely humid and lacking that cold crispness we're so used to in the UK. While I love warm weather, after two years of sweltering heat in Asia and smothering myself in sun cream, the Brit inside of me longs for frost and snow, for days cool enough to zip up a coat and wrap myself in a blanket. Luckily, this year we've chosen the perfect place to experience a spectacular autumn and kick-off a brand new phase of our adventure: New England.
I have long since dreamed of experiencing a New England fall, so much so that I'm a bit scared the reality won't match up to my expectations. I have this picture in my head of sprawling farms, quaint little towns full of wood-clad houses with huge porches, vast forests and lakes, jagged coastlines and white lighthouses. When I think of our eight-week road trip I imagine driving through an autumn of orange pumpkin patches, famer's markets, red-brown leaves and alongside windswept beaches. Have you ever visited New England; are my imaginings anywhere close to the truth?
New England Road Trip Itinerary
The New England fall foliage is supposed to be pretty spectacular, which means that we're visiting at an expensive time. After several years in super-cheap Asia, the cost of travelling in the U.S is no doubt going to hit us hard.  To try and lower costs we've already reserved our hire car and booked all of our accommodation in advance through Airbnb, which turned out to be cheaper than hotels, guesthouses or even hostels. We're paying on average around £30 ($45) per night for our accommodation and we're hoping that we'll get to meet some lovely hosts who can give us some local insights in the process. Booking ahead also means we now have a definitive itinerary for our trip, here it is:
Boston, Massachusetts, 8 days – we fly into New York on the 2nd September. From there we'll take a bus to Boston where we'll spend a week getting to know the city before we pick up our rental car.
Effingham, New Hampshire, 5 days – since we're staying close to the White Mountains we have plenty of walking planned for our stay in New Hampshire.
Hamden, Connecticut, 4 days – next we're heading towards the Connecticut coast where we also plan to explore New Haven, home of Yale University.
Pawtucket, Rhode Island, 7 days – from here we want to check out Providence and take the ferry to Martha's Vineyard and Nantucket; these islands were too expensive for us to stay on.
Buffalo, New York, 3 days – a day's drive will take us over to visit Niagara Falls.
Rockingham, Vermont, 7 days – we're heading back east to southern Vermont, where we'll be staying near the Green Mountain National Forest.
Bristol, Vermont, 7 days – now it should be time to drive north and catch the fall foliage in action. As well as checking out the countryside, farms and towns we're excited to visit Burlington, which sounds like a vibrant city.
Swanville, Maine, 7 days – time to chase the foliage across to a converted barn in Swanville, which we'll use as a base to explore the northern coast and Bangor.
Bar Harbour, Maine, 4 days – we're making a stop here solely to visit Acadia National Park, which we've heard great things about.
Portland, Maine, 7 days – autumn should be in full swing as we drive down the famous coast towards Portland, where we're excited to experience an American Halloween for the first time!
Fall River, Massachusetts, 3 days – we're ending our trip back in Massachusetts, from there we'll drive over to visit Cape Cod.
Boston, Massachusetts, 5 days – after returning our rental car we'll spend a final few days in Boston, a city which I fully expect us to fall for.
The fun doesn't stop once our road trip is over; next we'll catch the bus down to visit Philadelphia and Washington DC.  Our trip ends in New York visiting Andrew's relatives; we have a week of intense sightseeing and our first Thanksgiving to experience before we fly back to England on the 28th November.
Slow Travel Promise
Most people  spend just two or three weeks visiting New England in the fall, so I know that our eight-week road trip sounds pretty lavish. What we have learnt from travelling over the last couple of years though, is that slower travel works better for us. Although we had a great time at the beginning of our trip in New Zealand and Australia, for example, we also totally burnt ourselves out zipping backwards and forwards at a frantic pace. For this trip we plan to take things slow and steady so we can explore more in-depth and enjoy some rest days.
Pin Me For Later!
What do you think of our New England itinerary, can you recommend any places for us to visit?